I. Identifying Specific Social Problems That Should be Addressed
RISTEX establishes R&D Focus Areas/Programs that focus on grave social issues in order to conduct R&D of science and technology for society. New R&D Focus Areas/Programs are normally set up with approximately 1-year-long preparations and investigations.
First, preparatory surveys are carried out to identify a variety of phenomena that can be categorized as social issues. Then experts from various fields are invited to a "social issue workshop" for the purpose of grasping comprehensively the prominent social issues. Participants discuss about "social issues that are anticipated to occur in the near future," "social issues that should be chosen as Focus Area topics," and "how to resolve the social issues," to select issues of particular importance which can be the potential Focus Areas.
This is followed by workshops on specific topics, to further discuss the importance and urgency of candidate Focus Areas, and to decide social issues which should be addressed.
Plot diagram for overviewing social issues (available only in Japanese)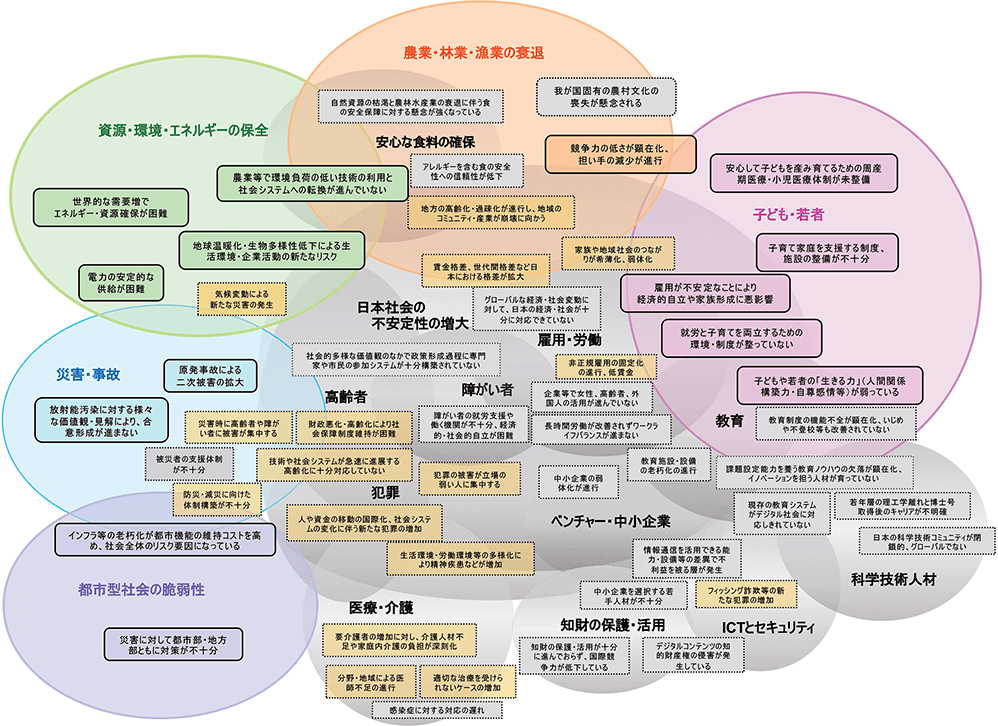 II. Establishing R&D Focus Areas/Programs
Next, stakeholders who are deeply involved with the issues are interviewed for a still deeper understanding of the latest status of the problem. Various opinions of people of diverse backgrounds, including research institutes, corporates, NPOs, local governments, and mass media are gathered, and the current problems as well as problems which are not prominent yet are investigated.
Workshops and working groups are then held with experts and stakeholders based on the opinions and suggestions received from interviewees and from members of the general public, to consider the framework of Focus Area/Program and approaches taken for R&D. The overview of such consideration is widely announced in an "open forum" to share with the general public and to
exchange opinions.
The concept of an R&D Focus Area/Program built up through this series of processes, along with the consideration of government policies, is discussed by the Governing Board, and on its approval, it officially becomes an R&D Focus Area/Program.
III. Promoting R&D
Management Structure
In an R&D Focus Area/Program, a Program Supervisor is appointed as the person responsible for its management. Also, the Advisors who provide the Program Supervisor with expert advice are appointed.
They are selected from various sectors including industry, academia, government, and private sectors.
Under the strong leadership of the Program Supervisor, the Advisors and staff in charge at RISTEX perform their specialized roles as they engage in the management of the Focus Area/Program.
R&D Management Structure (an example of R&D Focus Area)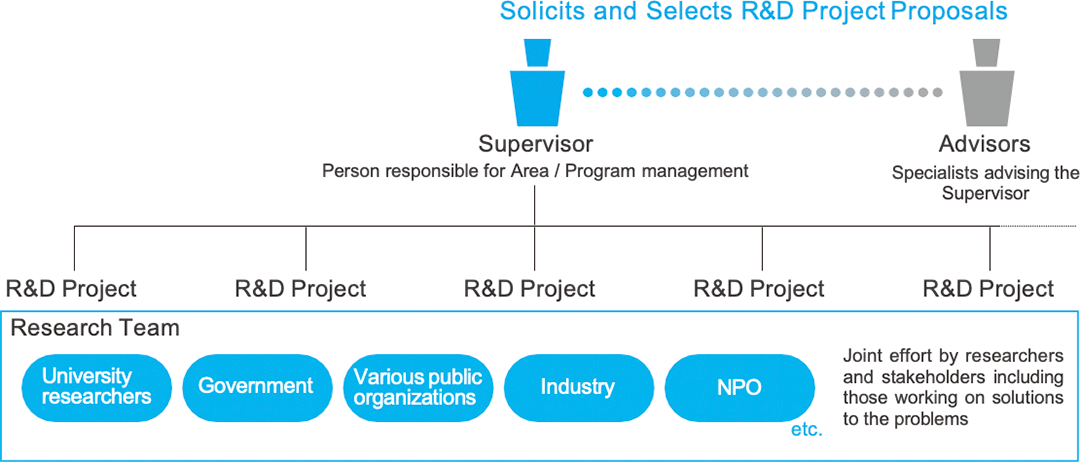 Call for Proposals and Selection of R&D Projects
Each R&D Focus Area/Program calls for R&D proposals in line with its own goals. The Program Supervisor, with the cooperation of the Advisors, conduct the selection procedure to choose several R&D projects from many proposals submitted.
R&D projects selected perform R&D generally for 3 years (max. 5 years) on the ground that these are expected to produce outputs that contribute to the accomplishment of R&D Focus Area/Program goals.
Timeline of R&D Project Implementation (the Case of a 6-Year R&D Focus Area)
* Feasibility Studies are designed for R&D project proposals intended to be submitted in the following year, providing opportunities for researchers to elaborate the theoretical framework and improve the feasibility of the research plan. The duration is approximately 6 months.
Project Management
After the R&D projects are selected, the Program Supervisors, Advisors and RISTEX staff support the projects in various aspects from the progress of projects to the outreach activities. Some of such activities are described below.
Focus Area/Program Meetings
Focus Area/Program meetings are held roughly once a month for the Program Supervisor, the Advisors and RISTEX staff to discuss matters related to the management of the Focus Area/Program. These are often held along with other events such as the project reporting, study groups by those involved, and networking events.
A scene from a "Program Salon", a study group organized in the "Science of Science, Technology and Innovation Policy" Program
Focus Area/Program General Meetings (On-Site Lodging)
Every year, a general meeting is held in a style of on-site lodging, where all the R&D projects active in the Focus Area/Program get together.
The Program Supervisor, the Advisors, RISTEX staff and the Principle Investigators of R&D projects, along with a wide variety of stakeholders who are involved in the R&D attend the meeting, and the total number of participants sometimes exceed 100.
During the meeting, the progress of R&D is reported, and R&D promotion/management issues are discussed in order for the participants to share the understanding of the situation, so that the Focus Area/Program goals can be duly achieved. It is also intended to promote exchanges among various project members so that connections can be formed transcending the confinement of projects. Such exchanges of ideas between different R&D projects sometimes result in new collaborative research.
A scene from a general meeting in Dec. 2021. Members of all 17 projects awarded funding from the beginning of the program till FY2021 assembled to discuss directions of their R&D as well as common issues they faced in the practice of ELSI/RRI, furthering the interaction amongst projects.
R&D Project Site Visits
As R&D promoted by R ISTEX places an emphasis on social implementation, many of the projects conduct R&D in local regions involving the communities and residents. Thus, in RISTEX, site-visits by the Program Supervisors, the Advisors, and RISTEX staff to the fields where the R&D takes place are held actively. During the visits, the progress of R&D is monitored, and advice is given to the researchers where necessary, and by doing so, the project is supported by the management team.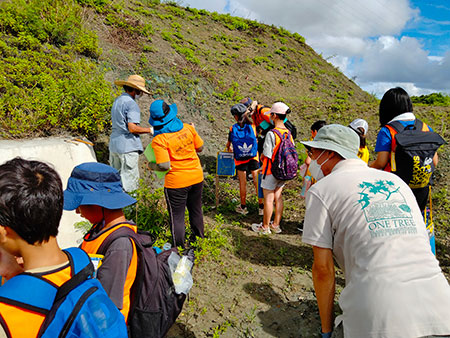 A scene from an event "Summer school 2022: Discovery and scientific experience in local ecological wonders" held in Yaese-cho, Okinawa Pref. where Yasumoto project, SOLVE for SDGs Scnario/Solution, conducts a demonstration experiment. School children are collecting Okinawan natural sea mud "kucha."
Outreach Activities
When R&D activities of projects progress to a certain stage, the outputs so far and issues regarding the R&D are shared with the public by the publication of booklets and dissemination of information on the web site. Also, symposia and other forms of events are organized to promote exchanges of ideas. Notifications of such events organized by individual projects are also announced on the RISTEX web site.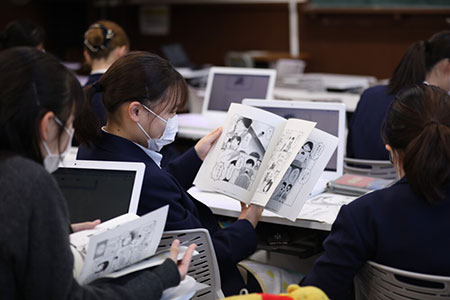 A session in Science Agora 2021: Using a manga, which was developed in Toriumi project as a teaching material, junior and senior high school students across Japan discussed better use of SNS. (Photo provided by SDGs Magazine)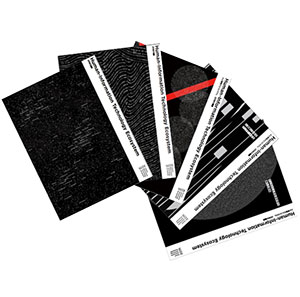 Introduction Booklet [vol.1-vol.5] (Human Information Technology Ecosystem(HITE))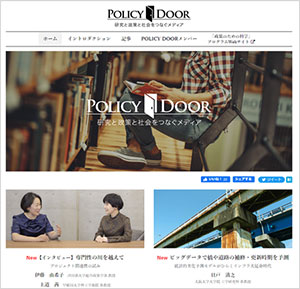 Website and booklets, "POLICYDOOR" (Science of Science, Technology and Innovation Policy)

"RlnCA" Journal (Responsible Innovation with Conscience and Agility)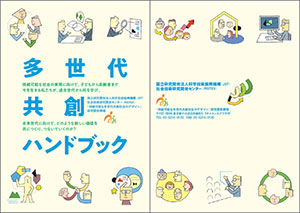 Handbook of Intergenerational Co-creation Approach (Designing a Sustainable Society through Intergenerational Co-creation)
Various outreach efforts using brochures and Websites
Project Evaluations
Ex-post evaluations are conducted and made public when projects end, to determine the state of R&D, outputs, and spillovers, which are useful for further development and diffusion of the outputs.
In addition, follow-up surveys are conducted after a certain period of time has passed, regarding the further development, utilization, and spillovers of R&D outputs.
Focus Areas/Programs Evaluations
RISTEX also conducts evaluations of Focus Areas/Programs by external experts for the purpose of improving the management of R&D, as well as the management of funding activities. There are mid-term evaluations which determine the progress in terms of achieving the goals of R&D Focus Areas/Programs, and this is useful in improving the management and support systems. When the R&D is ended, ex-post evaluations are conducted and made public, which determine the state of R&D, outputs, and spillovers of Focus Areas/Programs, and these are useful for further development and diffusion of the outputs and improvement of funding activities.
IV. Presenting Solution Prototypes
The outputs of R&D activities in the projects (Tier 1 in the figure on the right) are expected to be applied not only in the regions and communities where the social experiment took place, but more widely in various organizations, communities, and regions.
Therefore, individual R&D projects are required to show the details of solution prototypes including the models, methodologies, required conditions such as regional characteristics and institutional constraints, and how to train/secure the users of solutions. This helps the outputs to be implemented more broadly via various networks.
As a Focus Area/Program (Tier 2 in the figure on the right), by overviewing outputs of projects and issues commonly shared across projects, comprehensive models and methodologies which are more normative and universal are attempted to be constructed, and such outputs are to be developed into proposals influencing the public systems of national and local governments (Tier 3 in the figure on the right), such as legal systems and policies.
Conceptual Diagram of Prototype Development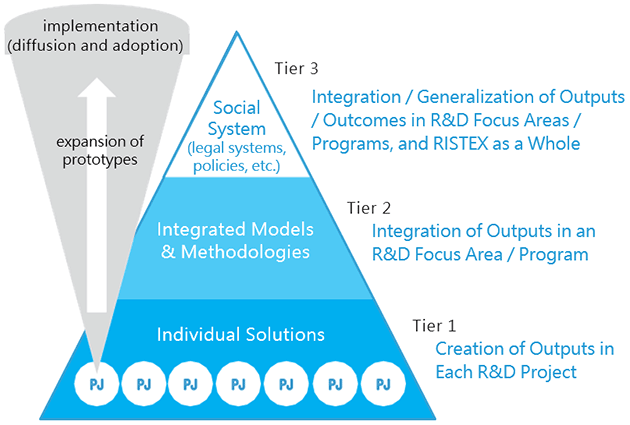 V. Prototype implementation support
By the Implementation-Support Programs and R&D Focus Areas/Programs, RISTEX supports the utilization of R&D outputs in activities and initiatives of various organizations such as the national and local governments, corporates and NPOs, so that the impact of these outputs expands to various regions and communities, and would become diffused and adopted in the future as "science and technology for society."