This program was established in 2007 with the aim of grasping the outlook of social implementation by applying existing R&D outputs to real social issues. In accordance with this aim, projects were promoted with social implementation as the clear goal. (Ended in March 2021)
Program Supervisor
TOMIURA Azusa
Former Auditor, Tokyo Institute of Technology
(as of the completion of the Program)
The key to success is consecutive work of research, development, demonstration, and diffusion
While science and technology have made a remarkable progress in recent years and yielded the multitudinous outcome, most of those outcomes, however, have remained dormant in a repository of knowledge without being applied to our society. The reason is that the intellectual activities usually discontinue at the stage of the research and do not proceed to a consecutive work through development, demonstration and further to diffusion. Under such circumstances, it is almost impossible to utilize intellectual assets in a repository.
Unsuccessfulness results in the discontinuity between R&D and demonstration
R&D for society is largely conducted by universities or by research and development institutions. So long as the validity of their outcome is not demonstrated in a visible form, the public, who are potential beneficiaries, will hesitate to invest their money in enjoying benefit of R&D. As a result, research and development work is interrupted by the shortage of budget before going to the demonstration, and RDDD cycle remains incomplete.
A transit across the valley of death by the help of implementation support program
Researchers want outcome of their own research to be actually utilized, and the public at large also wants to make use of research and development results. In order to fulfill the wants of both parties, it is essential to traverse the valley of death between R&D and demonstration, to visualize the R&D outcome, and to develop a mechanism whereby the potential beneficiaries can easily make the decision to provide funding without hesitating over it. The implementation-support program is just such a mechanism. The concept of implementation support is shown on the left below. Please note that in the absence of implementation support program, R&D will be slowed down and, depending on the circumstances, may end up being stalled.
Implementation activities as teamwork with the public
The major premise of the implementation-support program is that R&D have ended and produced results. Since implementation activities are conducted as teamwork with the public, it is necessary to make clear who the potential beneficiaries is, what the purpose is, what methods are to be used to achieve the purpose, and what kind of effects are to be expected until when
Flexibility to accept coagent
In the course of implementation in society, it is necessary to have the flexibility in the organization in getting cooperation, as circumstances require, with researchers in deferent discipline, engineers, people with local on-site experience, beneficiaries, and others. Without coagent, it will not be possible to traverse the valley of death
Building a bridgehead to diffusion
The scope of this program does not cover as far as the stage of diffusion. When it becomes established and runs autonomously in society, however, then one expects that the implementation will be taken up as a successful case and diffused throughout the country.
Institutions that can receive implementation support
Institutions that can receive implementation support include private enterprises, societies of all kinds, non-profit organizations (NPO), universities, research institutes, and so on, regardless of the constituting entity. Projects are given support for one year or more, up to three years. By this support, it is expected to expedite the application of R&D outcome in society, to strengthen the researchers' social role, to improve the foundation of the R&D organization, and to positively realize the diffusion and firm establishment of R&D outcome in society.
Implementation-Support Program Underlying Concepts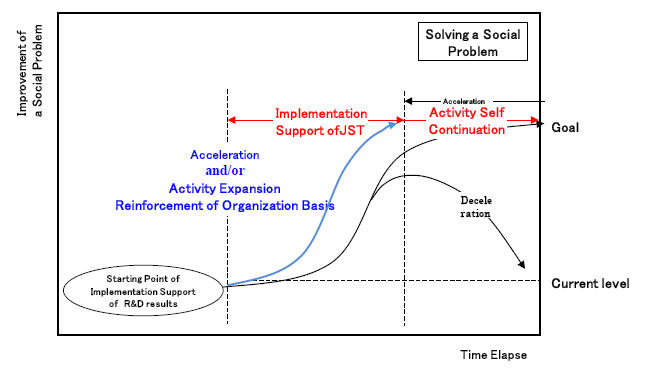 Program Objective
The objective of the Implementation Support Program (Call for proposal Type) is to verify the effectiveness of R&D outputs in solving issues, and to grasp the outlook of diffusion and adoption. This program has promoted 58 projects in the 14-year period from FY2007 to FY2020, and ended in March 2021 after accomplishing sufficient achievements.
Summary of Outputs
The target fields of the projects were nearly equally divided among the four fields of children, safety and security, the elderly and vulnerable, and natural and human environments.
Regarding the areas of expertise, half of the projects were in science and technology (S&T), and the remainder were in medical sciences and humanities & social sciences (HSS). When the program was launched, the majority of applicants were in S&T, but as the program objective became better understood, the number of applicants from HSS increased.
While the R&D of technologies for industry focuses on tangibles, the focus of R&D for society is on the intangibles. The program selected both approximately equally but R&D of intangibles increased in the latter half of the program.
Nearly 90% of the projects have reached their goals, and thus the program has accomplished suff icient achievements. Most cases of partial achievements resulted from the changes in the given conditions. This indicates that it is indispensable to hold sufficient preliminary discussions to obtain certain consensus with the recipient of the solution. Approximately 90% of the total projects succeeded in involving stakeholders as their members.
More than 60% of the projects succeeded in having their solutions diffused, and more than 90% had their solutions put into practical use when cases of limited diffusions are included. The reasons for the cases of solutions which were hardly diffused lie in the changes in the given conditions.
Regarding the target of transfer, about 60% of solutions were transferred to national institutions and municipalities, and 25% to the private sector and NPOs, with almost 90% put into practical use.
Based on the findings of this program, the how-tos of social implementation were compiled and published as "The Social Implementation Handbook."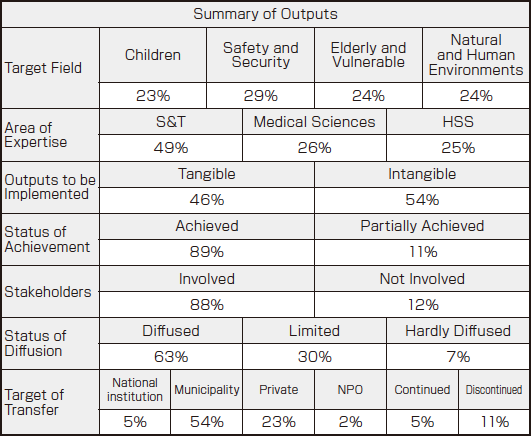 Roles of Researchers
The environment we find ourselves in is constantly changing. We risk adverse effects if we fail to gain an insight into how this will affect our lives and take relevant actions. Researchers must take on the roles of warning the general public about the consequences of these changes and setting standards and guidelines to avoid harm.
A Blueprint for What Must Be Solved
When various factors of issues that comprise social problems are categorized and analyzed, the structure of the problems becomes distinct. Drawing out such a structure enables us to foresee the existence of currently unknown issues that should be explored. It is essential to create such a blueprint, or a research matrix, to confirm the standpoint of each research topic and to search for new ones.

Project
FY2017
An implementation of a universal prevention program for mental health in elementary school
ISHIKAWA Shin-ichi
(Professor, Faculty of Psychology, Doshisha University)

2017.10-2021.3

Implementation of disaster animal management assistance system
HAYAMA Shin-ichi
(Professor, School of Veterinary Medicine, Nippon Veterinary and Life Science University)

2017.10-2021.3

Implementation of a disaster medical assistant drill program with citizens
YODA Ikushi
(Senior Research Scientist, Human Informatics Research Institute, National Institute of Advanced Industrial Science and Technology (AIST))

2017.10-2020.3
FY2016
Implementation of the early intervention model based on evidence for children with developmental disabilities tackled with parents
KUMA Hitomi
(Joint representative, Human Resource Development Division, ADDS)

2016.10-2020.3

Implementing systems for promoting the introduction and the utilization of low energy-consuming products and people's energy conservation behaviors
YOSHIDA Yoshikuni
(Professor, Graduate School of Frontier Sciences, The University of Tokyo)

2016.10-2020.3

Implementation of integrated care system of Behavior analysis data of the elderly and Information obtained from doctors, public health nurses, and life support counselors for Elderly people living in temporary housing in the affected areas of the Kumamoto earthquake
SHIROUZU Mako
(Associate Professor, Faculty of Administration, Prefectural of University of Kumamoto)

2016.10-2018.9

The implementation of the Kizkey system to assist high-quality nursing care services
SHINJO Atsushi
(Professor, Faculty of Environment and Information Studies, Keio University)

2016.10-2019.9

Implementation of wide-area cooperated information utilization support mechanism for recovery from Kumamoto earthquake
SUZUKI Shingo
(Deputy Manager Research Fellow, Disaster Resilience Research Division, National Research Institute for Earth Science and Disaster Resilience)

2016.10-2018.9
FY2015
Implementation of Irrigation Information Service Systems for Large-scale Rice Farmers
IIDA Toshiaki
(Associate Professor, Graduate School of Agricultural and Life Sciences , The University of Tokyo)

2015.10-2018.3

Advanced Medical Image Diagnosis Supprot System Implementation
KIN Taichi
(Assistant Professor, Department of Neurosurgery, The University of Tokyo)

2015.10-2018.9

Implementation of a Disaster Warning System for Landslide and Avalanche using Thinned Wood
SHIMOI Nobuhiro
(Professor, Department of Machine Intelligence and Systems Engineering, Akita Prefectural University)

2015.10-2018.9

Implementation of ADHD Children Support System using functional NIRS
DAN Ippeita
(Professor, Faculty of Science and Engineering, Chuo University)

2015.10-2019.3

Social Implementation of Dementia Prevention Program using Neuronal Activity Topography
TANAKA Mieko
(Senior Researcher, Brain Functions Laboratory, Inc.)

2014.10-2016.3
FY2014
Lecture Assistance for Deaf High School Students by Remote Texting using Personal Computer
TAMADA Masami
(Chairman, Bilingual and Bicultural Education Center of Deaf Children)

2014.10-2017.9

Platform Foundation and Social Implementation of Computer- aided Tour Planning Technologies That Contribute to Both Tourists and Local Communities
HARA Tatsunori
(Associate Professor, RACE(Research into Artifacts, Center for Engineering), The University of Tokyo)

2014.10-2017.9

Practical Utilization of Multi-dimensional Scale for PDD and ADHD (MSPA) across the Medical, Education and Social field
FUNABIKI Yasuko
(Associate Professor, Graduate School of Human and Environmental Studies, Kyoto University)

2014.10-2017.9

Social Implementation of Evidence Based School Social Working Model
YAMANO Noriko
(Professor and Director, Research Institute for Evaluation Support of School Social Work, Osaka Prefecture University)

2014.10-2017.9
FY2013
Social Implementation of Screening for Sleep Apnea to prevent Traffic Accidents by Drowsy Driving
TANIGAWA Takeshi
(Professor and Chairman, Department of Public Health, Juntendo University Graduate School of Medicine)

2013.10-2016.9

Senior Citizens'New Career Model in the Community
TSUJI Tetsuo
(Professor, Institute of Gerontology, the University of Tokyo)

2013.10-2016.9

Implementation of Shelter Guidance System for Commuters who are unable to return home based on Structural Health Monitoring of tall buildings after large-scale earthquake
MITA Akira
(Professor, Department of System Design Engineering, Keio University)

2013.10-2016.9

Social Implementation of Powered Glove for People with Hand Disability
MOROMUGI Shunji
(Associate Professor, Department of Electrial, Electronic, and Communication Engineering, Faculty of Science and Engineering, Chuo University)

2013.10-2016.9
FY2012
A Widespread Use of an Easy-to-use Eye-gaze-tracking Device to Detect Earliest Signs of Developmental Disorder Will Help More Children to be Diagnosed Correctly, Providing Them Opportunities of an Appropriate Clinical Intervention Earliest Possible.
KATAYAMA Taiichi
(Dean, United Garduate School of Child Development, Osaka University, Kanazawa University, Hamamatsu University school of medicine, Chiba University and University of Fukui)

2012.10-2015.9

Implementation of School-based Social and Emotional Learning Programs for Crime Prevention
KOIZUMI Reizo
(Professor, Division of Professional Practice in Education, Graduate School of Education, Fukuoka University of Education)

2012.10-2015.9

Improved Breeding and Saturation Level of Guide Dog for the Blind
SUZUKI Hiroshi
(Professor, Director General, National Research Center for Protozoan Diseases, Obihiro University of Agriculture and Veterinary Medicine)

2012.10-2015.9

Risk Assessment of Coastal Area by Geochemical Discrimination of Tsunami Sediments and its Social Influence
TSUCHIYA Noriyoshi
(Professor, Graduate School of Environmental Studies, Tohoku University)

2012.10-2015.9

The Sustainable Agricultural Production System for Reducing Environmental Load
HAYASHI Masahiro
(Professor, Organization for Innovation and Social Collaboration, National University Corporation Shizuoka University,)

2012.10-2015.9

Promoting Decentralized Energy Use and Creating Environmental Business in Rural Areas
MOROZUMI Kazuo
(Professor, Nodai Research Institute, Tokyo University of Agriculture)

2012.10-2015.9
FY2011
Clinical Application of Dielectrophoretic Cell-identification Facilitating Early Diagnostics for Acute Leukemia
IMASATO Hiroko
(Senior Researcher, Fuzzy Logic Systems Institute)

2011.10-2014.9

Social Implementation of Support Underwear for Prevention and Improvement of Women's Urinary Incontinence
OKAYAMA Hisayo
(Associate Professor of Maternity Nursing and Midwifery,Faculty of Nursing, Shiga University of Medical Science)

2011.10-2014.9

Social Implementation of Self-supporting Digital Glass for Visual field Defect
SHIMOMURA Yuko
(Professor, Vice Chief of Education & Reasearch Promotion Center, Kinjo University)

2011.10-2014.9

Social Implementation of a Car-driving Assist System for Handicapped Persons
WADA Masayoshi
(Associate Professor, Institute of Engineering, Tokyo University of Agriculture and Technology)

2011.10-2014.9
FY2010
Web-based Support System for Child Care
ANME Tokie
(Professor, Faculty of Medicine, University of Tsukuba)

2010.10-2013.9

Development of Life Recovery Support System for a Possible Tokyo Metropolitan Earthquake
TAMURA Keiko*
(Professor, Risk Management Office, Headquarters for Risk Management, Niigata University)

2010.10-2013.9

Ambulatory Voiding in the Elderly Based on Functional Assessment
HOMMA Yukio
(Professor, Department of Urology, Graduate School of Medicine, The University of Tokyo)

2010.10-2013.9

School Zone Lighting for Prevention of Light Pollution in Agricultural Products
YAMAMOTO Haruhiko
(Professor, Faculty of Agriculture, Yamaguchi University)

2010.10-2013.9
*succeeded from Prof. Haruo HAYASHI of Kyoto Univ. since 2012.
FY2009
Social Implementation of an Early Intervention System for Children with Developmental Disorders and Their Families
KAMIO Yoko
(Director of Department of Child and Adolescent Mental Health, National Institute of Mental Health, National Center of Neurology and Psychiatry)

2009.10-2012.9

Organization of a Tidal Flat Restoration System with Citizen Participation to Restore the Natural Environment of Ago Bay
KOKUBU Hideki
(Researcher, Mie Prefecture fisheries Research Institute)

2009.10-2012.9

Implementation of a System for the Evaluation of Ambulatory Ability within Local Government Bodies to Prevent the Stumbling of Elderly People
SHIOZAWA Naruhiro
(Associate Professor, College of Business Administration, Ritsumeikan University)

2009.10-2012.9

Implementation of the Building Damage Evaluation and Household Recovery Support Systems for Local Governmental Post-Disaster Operations
TANAKA Satoshi
(Associate Professor, Graduate School of Environment and Disaster Research, Fuji Tokoha University)

2009.10-2012.9

The Social Setting of New Human Services to Prevent Child Abuse in Collaboration with Local Child Guidance Centers
NAKAMURA Tadashi
(Professor, Graduate School of Science for Human Services, Ritsumeikan University)

2009.10-2012.9
FY2008
Diffusion of Ubiquitous IT Based Logistic Management System for Sustainable Utilization of Regional Timber Resources
YASHIRO Tomonari
(Professor, Institute of Industrial Science, University of Tokyo)

2008.10-2011.9

Construction of Oil Spill Response System by Collaborating Stakeholders Preparing Sakhalin Oil and Gas Development
GOTO Shintaro
(Professor, Dept. of Environmental Systems, Faculty of GEO-Environmental Science, Rissho University)

2008.10-2011.9

Rollover Prevention System of Trailer Truck for Contributing to Safer Logistics and Secure Society
WATANABE Yutaka
(Professor, Faculty of Marine Technology, Tokyo University of Marine Science and Technology)

2008.10-2011.9

Social Implementation of Sustainable Support System that Enables Safe Driving by Elderly Persons over a Long Period
ITO Yasumi
(Chief, Section of Assisted Living Technology, Department of Gerontechnology, National Center for Geriatrics and Gerontology, National Institute for Longevity Sciences)

2008.10-2011.9
FY2007
Development of an Efficient and Effective Regional Emergency Medical System
OHSHIGE Kenji
(Associate Professor, Department of Public Health, Yokohama City University School of Medicine)

2008.4-2011.3

Establishing a Foothold for Nationwide Expansion of Tsunami Education Using a Comprehensive Tsunami Disaster Scenario Simulator
KATADA Toshitaka
(Professor, Department of Civil and Environmental Engineering, Gunma University)

2008.4-2012.3

Diffusion and Popularization of Biodegradation Disposal System for Oil Spill Recovery
KOTANI Kimito
(Chief Researcher, Regional Resources Division, Oita Industrial Research Institute)

2008.4-2012.3

Pragmatic Application of an Educational Information-Sharing System for Medical Staff to Prevent Drug-Related Malpractice
SAWADA Yasufumi
(Director, Drug Lifetime Management Center)

2008.4-2011.3

Organizing Community Networks which Support Children with Learning Difficulties Through E-learning
MASATAKA Nobuo
(Professor, Primate Research Institute, Kyoto University)

2008.4-2011.3
Promotion of Social Implementations of Solutions Related to the Kumamoto Earthquakes
Implementation of "A Life Recovery Support System" Using the Victim Database for Kumamoto Earthquake Victims


TAMURA Keiko




(Professor, Risk Management Office, Headquarters for Risk Management, Niigata University)

2016.4-2017.3
Emergency Implementation for Recovery of Vistims' Residence and Life after the 2016 Kumamoto Earthquake


TAMBA Fuminori




(Associate Professor, Faculty of Administration and Social Sciences, Fukushima University)

2016.6-2017.3
Promotion of Social Implementation of Solutions Related to the Great East Japan Earthquake
Program for Integrated Implementation Activities to Improve the Living Environment of Temporary Housing


TAMBA Fuminori




(Associate Professor, Faculty of Administration and Social Sciences, Fukushima University)

2011.5-2012.3
Rapeseed (Nanohana) Project for Restoring Tsunami-Salt Damaged Farmland


NAKAI Yutaka




(Professor, Graduate School of Agricultural Science, Tohoku University)

2011.5-2012.3
Evaluation of Heavy Metals-Contaminated Soils in the Disaster-Striken Area


TSUCHIYA Noriyoshi




(Professor, Graduate School of Environmental Sciences, Tohoku University)

2011.5-2012.3
Water Purification in Closed Water Area and Recovery of Aquaculture by the Use of Large-Scale Microbubble Generators


OONARI Hirohumi




(Professor, National Institute of Technology, Tokuyama College)

2011.5-2012.3
Objective Assessment of Fatigue in Victims of the Great East Japan Earthquake and Their Supporters and Disease Prevention Support


YOSHIDA Toshiko




(Professor, School of Nursing, Miyagi University)

2011.5-2012.3
Improvement in Sanitary Conditions in the Areas Affected by the Disaster and Preparation of Resilient City Infrastructure Against Disasters With the Introduction of Portable Urine Diversion Toilets


SHIMIZU Yoshihisa




(Professor, Graduate School of Engineering, Kyoto University)

2011.5-2012.3