Program Supervisor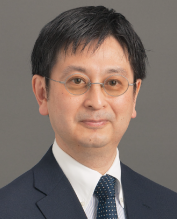 KOKURYO Jiro
Professor, Faculty of Policy Management,
Keio University
Thanks to the rapid progress in information technology, e.g. artificial intelligence utilizing big data, robots and IoT, an expectation for realization of a richer and more efficient society is growing; meanwhile, however, it has begun to be pointed out that information technology could bring about various problems, e.g. "accidents or criminal cases based on malicious intent (terrorism, crime, etc.)", "unexpected accidents or trouble (security, privacy, etc.)" and "expansion of economic disparity and/or centralization of capital". Also, as evident in the coining of a new word "coveillance" (= mutual surveillance on the Internet), development of information technology is changing how our privacy should be itself; it is anticipated to continue changing human lifestyle in many aspects.
Beyond each specific issue, today's information technology poses questions on the very nature of human existence, such as self and autonomy. We cannot handle such technologies simply in the framework of utilities and risks/costs.
As a consequence, we observe cases of technology deployments having proceeded with practicalization without sufficient feedback from society. In such cases, problems that emerge subsequently result in regulations that put brake on the technological development.
Groundless anxiety on technologies also persist. Today's information technologies are often talked about in society in forms of multifarious interpretations/images/metaphors; its potential merits and negative risks are unclear. For continual, adequate use of information technology in society, therefore, evaluation by experts only is insufficient; taking in various stakeholders' subjective opinions from the upstream stage of research and development, it becomes important to broaden problem or theme framing continually.
Reviewing information technology from a viewpoint of humanity from the upstream stage of research and development, it is becoming urgent that continual attempts should be made to design technologies and systems cooperatively under the understanding of society; in practice, however, such points as creation of opportunities or venues, establishment of methodology or functions and securement of personnel for responding to such trial have not been sufficiently dealt with.
So, for coping with these problems adequately, this focus area aims at realizing a society in which information technology and human beings go hand-in-hand by promoting research and development of social technology for an interactive function that prompts coexistence of information technology and human beings/society.
In pursuing our goals, we would also like to address perspectives that are not western. Asia has tradition of viewing humans not at the center but as a part of the cosmos. Such cultural heritage may play a critical role in how humans might accept information technologies.
Goals
To aim for a society in which information technology and human beings go hand-in-hand, we form, specifying the merits and negative risks of information technology, an interaction to reflect them in technologies and systems continually. In concrete terms:
① Create a responsive measure for changes by, grasping/foreseeing the changes (in positive and negative aspects) that information technology can bring about, turning them into agenda.
② Reviewing, regarding progress in information technology or various measures, value awareness or morality as well as the present system, indicate the desirable directionality or various alternatives of requests continually.
Deeming the extraction of problems, review of norms or values by various stakeholders such as ① and ② and up to the presentations and suggestions based thereon to be a cycle, we conduct research and development for its establishment. Aiming at constructing as a co-creation platform the venues or mechanisms to prompt such desirable coevolution of society and technology, also, we deem the technologies and elements required for its functioning as well to be an object of research and development.
R&D Projects
FY2019
Ensuring the Benefits of AI in Healthcare for All: Designing a Sustainable Platform for Public and Professional Stakeholder Engagement
YAMAMOTO Beverley Anne
(Executive Vice President of International Affairs (Education), Osaka University)

2020.1-2022.12

The Future of Unpaid Work: AI's Potential to Transform Unpaid Domestic Work in the UK and Japan
NAGASE Nobuko
(Professor, Faculty of Core Research Human Science Division, Ochanomizu University)

2020.1-2022.12

Legal Systems and Artificial Intelligence
SUMIDA Mihoko
(Professor, Hitotsubashi Institute for Advanced Study)

2020.1-2022.12

PATH-AI: Mapping an Intercultural Path to Privacy, Agency, and Trust in Human-AI Ecosystems
NAKAGAWA Hiroshi
(Team Leader, Center for Advanced Intelligence Project, RIKEN)

2020.1-2022.12

Rule of Law in the Age of AI: Distributive Principles of Legal Liability for Multi-Species Societies
INATANI Tatsuhiko
(Professor, Graduate School of Law, Kyoto University)

2020.1-2022.12

Emotional AI in Cities: Cross Cultural Lessons from UK and Japan on Designing for An Ethical Life
Peter Mantello
(Professor, School of Asia Pacific Studies, Ritsumeikan Asia Pacific University)

2020.1-2022.12
FY2018
Study on the platform to support wise use of personal information in the data portability era
SHIBASAKI Ryosuke
(Professor, Center for Spatial Information Science, University of Tokyo)

2018.10-2022.3

Study on Social Receptivity of Personal-Data Ecosystem
HASHIDA Koiti
(Professor, Social ICT Research Center, Graduate School of Information Science and Technology, The University of Tokyo)

2018.10-2022.3

Constructing Philosophy of Artificial Intelligence 2.0 for the Coexistence of Human Being with Information Technology
SUZUKI Takayuki
(Associate Professor, Graduate School of Arts and Sciences, The University of Tokyo)

2018.10-2022.3

Updating Power of Imagination: Artificial Intelligence with Design fiction
OSAWA Hirotaka
(Assistant Professor, Faculty of Engineering, Information and Systems, University of Tsukuba)

2018.10-2022.3

Development of platform and media for dialogues between technology and society through utilizing knowledge of humanities social science
SHOJI Masahiko
(Executive Research Fellow, Center for Global Communications, International University of Japan)

2018.10-2022.3

Supporting co-evolution between AI based monitoring technology and nursing home based on process analysis of overestimate and underestimate
KITAMURA Koji
(Senior Researcher, Artificial Intelligence Research Center, National Institute of Advanced Industrial Science and Technology)

2018.10-2022.3

Research on the task models to cooperate with the human and new technology: Evaluating the impacts on labor market
YAMAMOTO Isamu
(Professor, Faculty of Business and Commerce, Keio University)

2018.10-2022.3
FY2017
Which controls which? Sense of agency when humans and semi-automated systems co-operate
YOSHIDA Takako
(Associate Professor, School of Engineering, Tokyo Institute of Technology)

2017.10-2021.3

Consideration on the concept of "responsibility" between autonomous machines and citizenries
MATSUURA Kazuya
(Associate Professor, Faculty of Letters, Toyo University)

2017.10-2021.3

Legal being: electronic personhoods of artificial intelligence and robots in NAJIMI society, based on a reconsideration of the concept of autonomy
ASADA Minoru
(Professor, Institute for Open and Transdisciplinary Research Initiatives, Osaka University)

2017.10-2021.3

Co-Creation and Communication for Real-Time Technology Assessment (CoRTTA) on Information Technology and Molecular Robotics
SHINEHA Ryuuma
(Associate Professor, Research Center on Ethical, Legal, and Social Issues (ELSI), Osaka University)

2017.10-2021.3

Co-creation of Molecular Robot ELSI and Real-time Technology Assessment Research
KONAGAYA Akihiko
(Visiting Professor, Faculty of Humanities, Keisen University)

2017.10-2021.3

A coevolutionary study on society with respect to power laws: - Can AI replicate the behavior of a non-equilibrium complex system? -
TANAKA-ISHII Kumiko
(Professor, Research Center for Advanced Science and technology, University of Tokyo)

2017.10-2021.3
FY2016
Acceptable Intelligence with Responsibility - Values Awareness Support (AIR-VAS)
EMA Arisa
(Project Assistant Professor, Institute for Future Initiatives, University of Tokyo)

2016.11-2020.3

Development and Dissemination of Information Technology Guidelines for Promoting Japanese-style Wellbeing
ANDO Hideyuki
(Associate professor, Graduate school of Information Science & Technology, Osaka University)

2016.11-2020.3

Proposals from health care on "transition of self through introspection and dialogue"
BITO Seiji
(Director, Division of Clinical Epidemiology, National Hospital Organization Tokyo Medical Center Clinical Research Center)

2016.11-2020.3

Scenario generation of socio-technology problems in the information technology area by using the foresight method
WASHIDA Yuichi
(Professor, Graduate School of Business Administration,Hitotsubashi University)

2016.11-2020.3

Trans-disciplinary Research Project on Co-designing Social Systems (Law, Economics and Management) and AI/Robot Technologies
SHIMPO Fumio
(Professor, Faculty of Policy Management, Keio University)

2016.11-2020.3