Providing humane services by expanding the function of flavor and fragrance

Prioritized Theme:
Creation of "human service" industries
Project Leader: TOUHARA Kazushige(Professor, Department of Applied Biological Chemistry Graduate School of Agricultural and Life Sciences, The University of Tokyo)
R&D Period: 2019.04-2024.03 (Feasibility Study: 2017.11-2019.03)
Grant Number: JPMJMI19D1
Project Summary

(PDF:411KB)
Summary:
Flavor and fragrance have great influences on our daily life such as bringing good taste in foods and good mood. Their effects, however, usually vary among individuals and the precise effects on our body and emotion have not fully been evaluated. This fact makes it difficult to utilize the beneficial functions of flavor and fragrance. In this project, we aim to develop new technologies to design and control flavor and fragrance based on the biological principle, and new methodologies to evaluate the effects on human. Finally, we will create new services to efficiently utilize previously-unappreciated benefits of flavor and fragrance.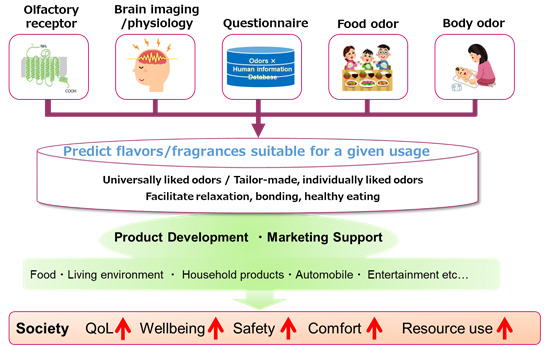 R&D Team
[Leading Institution]
Department of Applied Biological Chemistry Graduate School of Agricultural and Life Sciences, The University of Tokyo
[Collaborators]
Ajinomoto Co., Inc., Kao Corporation, NTT DATA INSTITUTE OF MANAGEMENT CONSULTING,
Graduate School of Frontier Biosciences, Osaka University,
The University of Tokyo Hospital
Project HQ
1-1-1, Yayoi, Bunkyo-ku, Tokyo, 113-8657
Department of Applied Biological Chemistry Graduate School of Agricultural and Life Sciences, The University of Tokyo
https://park.itc.u-tokyo.ac.jp/biological-chemistry/