Principal Investigator
ODA Recipient Country
India
Research Institutions in Japan
Japan International Research Center for Agricultural Sciences (JIRCAS) / Tottori University / National Agriculture and Food Research Organization (NARO)
Research Institutions in Counterpart Country
Borlaug Institute for South Asia (BISA) / Indian Institute of Wheat and Barley Research (IIWBR) / Indian Agricultural Research Institute (IARI) / Central Soil Salinity Research Institute (CSSRI)
Adoption fiscal year
FY 2021
Research Period
5 Years
Overview of the Research Project
Introduce BNI-enabled wheat varieties with improved nitrogen utilization to India
Almost half of the nitrogen fertilizer used in crop production is lost to the environment, which causes water pollution and contributes to global warming. In crops with the improved ability of biological nitrification inhibition (BNI), BNI substances secreted from the roots inhibit the nitrification process in the soil, which improves the nitrogen utilization rate and enables a high yield maintained with the application of less fertilizer. We are raising wheat varieties with high BNI function and introducing them into the wheat cultivation systems of the Indo-Gangetic plain in India, where large amounts of fertilizer are currently applied, and will evaluate their effectiveness from environmental and economic perspectives.
Reducing the amount of fertilizer has a double benefit to the local economy and the global environment.
The reduction in fertilizer use as a result of the introduction of BNI-enabled wheat varieties should have a positive effect not only on the wheat cultivators of the Indo-Gangetic plain but also on the Indian economy, which pays out large amounts in fertilizer subsidies. It should also decrease N2O gas emissions and nitrate leaching from agricultural land, creating a healthier global nitrogen cycle.
Photo gallery
Start of BNI-enabled wheat system growth on a test wheat plot in the eastern Indo-Gangetic plain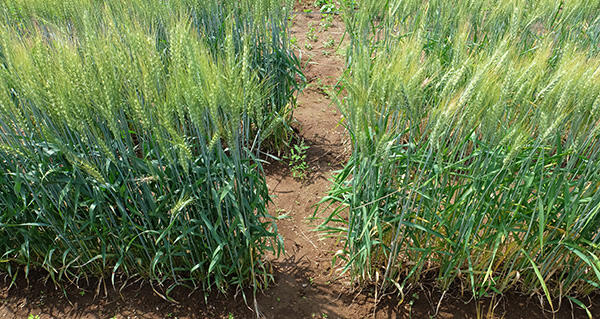 Even with low nitrogen, BNI-enabled wheat (left) exhibits better absorption and higher yield than the original variety (right). (Tsukuba)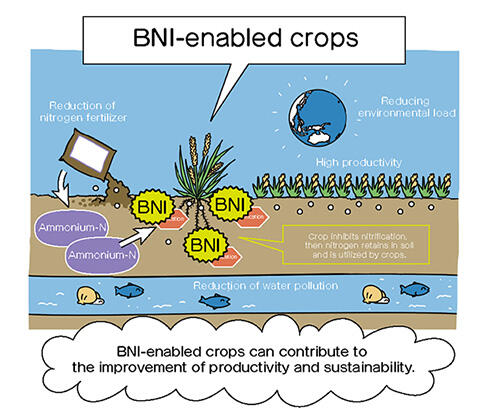 Overview of BNI technology(©Science Manga)
Research Project Web site
-
Press Release
-
Links
-