About Asano Active Enzyme Molecule Project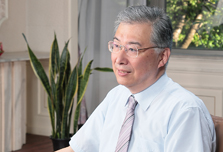 Enzymes are catalytic proteins with high reaction specificity, substrate specificity, and/or enantioselectivity. Enzymes are now used in various fields, such as chemical, food, and pharmaceutical industries, because they exhibit high activity under mild conditions and contribute to reducing environmental pollution and squandered resources. Among these applications, utilization of enzymes in the bioprocesses for the synthesis of useful chemicals or fine chemicals, generally known as "white biotechnology", has become one of the most important technologies in the world in the 21st century.
To further expand the application of enzymes in "white biotechnology", we are conducting interdisciplinary research by using newly isolated enzymes from not only microorganisms but also plants and animals, and developing artificial metabolism for synthesis of useful chemicals. Our research project also clarifies the relationship between the primary structure of proteins and formation of correct protein folding with enzyme activity in heterologous expression systems. Dynamic structure analysis of proteins and creation of new enzyme functions by modification are also being investigated in our research project. Furthermore, we are developing new enzymatic methods for selective assay of amino acids which are monitored in blood amino acid levels for diagnosis of various diseases.
These fundamental studies will significantly contribute to the development of "advanced white biotechnology" and human healthcare in the 21st century.
News & Topics
History
2017/06/30

Tauchi(staff) left.

2017/05/15

Siriporn(researcher) joined.

2017/05

"Characterization of an α-amino-ε-caprolactam racemase with broad substrate specificity from Citreicella sp. SE45" was published online in J. Ind. Microbiol. Biotechnol.

2017/05

"Engineering an ATP-dependent D-Ala:D-Ala ligase for synthesizing amino acid amides from amino acids" was published online in J. Ind. Microbiol. Biotechnol.

2017/04

"Hydrogen peroxide as a new defensive compound in "benzoyl cyanide" producing polydesmid millipedes" was published online in Sci. Nat.

2017/04/01

Aem(researcher)、Sasakura(staff) joined.

2017/03/31

Yamamoto(researcher)、Metzner(researcher)、Zhai(researcher)、Kawanishi(researcher)、Ohno(research assistant)、Fukagawa(research assistant)、Sawamura(research assistant)、Nitta(research assistant)、Matsuda (research manager)、Tatta(administrative)、Yoshikawa (staff) left.

2017/03/10

Hashi(staff) left.

2017/03/01

Takanami(research assistant) joined.

2017/02/28

Izumi(researcher) left.

2017/02

"Effect of glycosylation on the biocatalytic properties of hydroxynitrile lyase from the passion fruit, Passiflora edulis - a comparison of natural and recombinant enzymes" was published online in ChemBioChem.

2017/02

"A novel cytochrome P450, CYP3201B1, is involved in (R)-mandelonitrile biosynthesis in a cyanogenic millipede" was published online in FEBS Open Bio.

2017/02

"New enzymatic methods for the synthesis of primary α-aminonitriles and unnatural α-amino acids by oxidative cyanation of primary amine with D-amino acid oxidase from porcine kidney" was published online in Green Chem.

2017/02

"Development of enzymes to determine amino acids by growth-dependent molecular selection (In Japanese)" was published online in Fine Chemical.

2017/01

"Kemp elimination catalyzed by naturally occurring aldoxime dehydratases" was published online in ChemBioChem.

2016/12/31

Kawahara(reseacher) left.

2016/12

"Translation-dependent bioassay for amino acid quantification using auxotrophic microbes as biocatalysts of protein synthesis" was published online in Appl. Microbiol. Biotechnol.

2016/10/31

Yamaguchi(researcher), Tani(resercher) left.

2016/08/31

Matsunaga(research assistant) left.

2016/07/31

Shichida(Technician) left.

2016/07

"Cytochrome P450 CYP71AT96 catalyses the final step of herbivore-induced phenylacetonitrile biosynthesis in the giant knotweed, Fallopia sachalinensis" picked up cover picture of Plant Mol. Biol.

2016/06/20

Nitta(research assistant) joined.

2016/6/6

"A sacrificial millipede altruistically protects its swarm using a drone blood enzyme, mandelonitrile oxidase" was published online in Scientific Reports.

2016/5/19

"Draft genome sequence of an aldoxime degrader, Rhodococcus sp. strain YH3-3" was published in Genome announcements.

2016/5/13

"Recent development in amino peptidases, oxidase and racemases" was published online in Biocatalysis-Green Technology.

2016/04/6

"Molecular cloning of hydroxynitrile lyase from millipedes and heterologous expression in Eshcerichia coli" was awarded Hot Topics Award at The 2016 Annual Meeting of Japan Society for Bioscience, Biotechnology, and Agrochemistry.

2016/04/05

"A new S-hydroxynitrile lyase from Baliospermum montanum Its structure, molecular dynamics simulation, and inprovement by protain engineering" picked up cover picture of Industrial Biotechnoligy.

2016/04/01

Kawanishi(researcher), Shinoda(researcher), Kawahara(reseacher), Zheng(Special research assistant), Tatta(administrative) joined.

2016/03/31

Oku(Technician), Zheng(Technician), Kawahara(Special research assistant), Shinnaka(research assistant), Tatta(research assistant), Yamazaki(administrative) left.

2016/3

"Heterologous production of L-lysine ε-oxidase by directed evolution using a fusion reporter method" was awarded The Excellent Paper Award Published in Bioscience, Biotechnology, & Biochemistry.

2016/02/29

Miao(researcher) left.

2016/01/18

2015/10/09

"L-Arginine oxidase from Pseudomonas sp. TPU 7192: Characterization,gene cloning, heterologous expression, and application to L-arginine determination" was published online in Enzyme Microb.Technol.

2015/9/15

"Structural analysis of peptide legand recognition mechanism of alkaline D-peptidase from Bacillus cereus DF4-B" was published online in Sci.Rep.

2015/09/01

2015/08/25

"Discovery and molecular and biocatalytic properties of hydroxynitrile lyase from an invasive millipede, Chamberlinius hualienensis" picked up cover picture.

2015/08/11

We paretners with JST published press release about a paper "Discovery and molecular and biocatalytic properties of hydroxynitrile lyase from an invasive millipede, Chamberlinius hualienensis" published online in Proc.Nat.Acad.Sci.USA

2015/08/16

Murata(administrative) left.

2015/08/11

"Discovery and molecular and biocatalytic properties of hydroxynitrile lyase from an invasive millipede, Chamberlinius hualienensis" was published online in Proc.Nat.Acad.Sci.USA

2015/08/07

"Efficient Production of Lumichrome by Microbacterium sp. Strain TPU3598" was published online in Appl.Environ.Microbiol.

2015/08/3

Miao (Researcher) received Biotrans Poster Award-Biotrans 2015Biotrans Poster Award for excellent poster presentation and speed talk (12 awardees out of 462 posters).

2015/07/27
2015/07/01

Sawamura(research assistant)、Matsunaga (research assistant) joined.

2015/04/21

"Heterologous production of L-lysine ε-oxidase by directed evolution using a fusion reporter method" was published online in Bioscience, Biotechnology, and Biochemistry.

2015/04/01

Motojima(researcher), Tani(researcher), 翟 joined.

2015/03/31

Kameya(researcher), Okazaki(researcher), Nakano(researcher), Fuhshuku(researcher), Dadashipour(researcher), Ueda(techncian), Akae(research assistant), Itamoto(administrative) left.

2015/03/19

"Heterologous production of L-lysine ε-oxidase by directed evolution using a fusion reporter method" was accepted in Bioscience, Biotechnology, and Biochemistry,

2015/03/16

Yamazaki(administrative staff) joined.

2015/02/03

"Enhancement of stability of L-tryptophan dehydrogenase from Nostoc punctiforme ATCC29133 and its application to L-tryptophan assay" was accepted in Journal of Biotechnology and "Protein evolution analysis of S-hydroxynitrile lyase by complete sequence design utilizing the INTMSAlign software" was accepted in Scientific reports.

2015/01/13

"Complete genome sequence of an aldoxime degrader, Bacillus sp. OxB-1" was accepted in Genome Announcements

2015/01/01

Murata(administrative staff) joined.

2014/12/17

2014/12/16

We had our laboratory tour.

2014/12/10

"Chemical polymorphism of defense secretion with growth in the millipede Niponia nodulosa [Polydesmida: Cryptodesmidae]"was accepted in Jounal of Chemical Ecology.

2014/10/

"Notes on egg brooding newly recorded in two millipede species" was accepted in Japanese Journal of Entomology (New Series)

2014/10/01

Miao(researcher) joined.

2014/09/05

"Structural and functional analysis of hydroxynitrile lyase from Baliospermum montanum with crystal structure, molecular dynamics and enzyme kinetics " was accepted in BBA Proteins and Proteomics.

2014/09/02

2014/09/01

Izumi(researcher) joined.

2014/08/22

"Biosynthetic pathway for the cyanide-free production of phenylacetonitrile in Escherichia coli by utilizing plant cytochrome P450 79A2 and bacterial aldoxime dehydratase" was accepted in Applied and Environmental Microbiology

2014/07/05

"Identification and characterization of CYP79D16 and CYP71AN24 catalyzing the first and second steps in L-phenylalanine-derived cyanogenic glycoside biosynthesis in the Japanese apricot, Prunus mume Sieb. et Zucc. " was accepted in Plant Molecular Biology

2014/07/04

Miki(researcher) left.

2014/05/01

Metzner(researcher) joined.

2014/04/16

"Characterization of a pyridoxal-5'-phosphate-dependent L-lysine decarboxylase/oxidase from Burkholderia sp. AIU 395 " was accepted in Journal of Bioscience and Bioengineering

2014/04/01

Isobe(project coordinator), Fuhshuku(researcher), Shichida(techncian),Akae(research assistant), and Tauchi(staff) joined.

2014/03/31

Yasukawa(Researcher), Ichiki(Researcher), Morita(techncian), Fushimi(staff), and Yoshioka(staff)left.And Kyoto branch closed.

2014/03/

"(2-Nitroethyl)benzene: a major flower scent from the Japanese Loquat Eriobotrya japonica [Rosales: Rosaceae] " was accepted in Bioscience, Biotechnology, and Biochemistry

2014/02/20

"Binding of NAD+ and L-Threonine induces Stepwise Structural and Flexibility changes in Cupriavidus Necator L-Threonine Dehydrogenase" was accepted in The Journal of Biological Chemistry

2014/02/04

"Mutational and crystallographic analysis of L-amino acid oxidase/monooxygenase from Pseudomonas sp. AIU 813: Interconversion between oxidase and monooxygenase activities" was accepted in FEBS Open Bio

2014/01/18

"Tailoring D-amino acid oxidase from pig kidney to R-stereoselective amine oxidase and its use in deracemization of α-methylbenzylamine" was accepted in Angewandte chemie International Edition

2014/01/16

"Rapid enzymatic assays for L-citrulline and L-arginine based onthe platform of pyrophosphate detection" was accepted in Enzyme and Microbial Technology

2013/11/01

"Rapid and selective enzymatic assay for L-methionine based on a pyrophosphate detection system" was accepted in Analytical Biochemistry

2013/09/30

Hummel(researcher) and Jomura(administrative coordinator) left

2013/09/26

Research director Asano received The 2013 Enzyme Engineering Award, and researcher Yasukawa received The 2013 Enzyme Engineering Poster Competition Honorable Mention.

2013/09/23

Our project organized ERATO Asano Active Enzyme Molecule Project Special Session in Enzyme Engineering XXII.

2013/08/

"X-Ray crystallographic evidence for the presence of the crysteine tryptophylquinone cofactor in L-lysine ε-oxidase from Marinomonas mediterranea" was accepted in The Journal of Biochemistry

2013/05/24

Open Laboratory

2013/05/01

Shinnaka(research assistant)joined

2013/04/01

Yamamoto(researcher),Takakura(researcher),Oku(techncian),Ueda(techncian),Kishihara(research assistant),Kawahara(special reseach assistant),Jomura(administrative coordinator)joined

2013/03/31

Tatta (research assistant),Ueda(research assistant),Akita (administrative manager),Nishino (administrative Staff)left

2013/03/18

"Selective tryptophan determination using tryptophan oxidases involved in bis-indole antibiotic biosynthesis in Analytical Biochemistry

2013/03/01

Itamoto (administrative staff) joined

2012/11/19

Hummel (Researcher) joined

2012/10/01

Ishida (Researcher) joined

2012/08/01

Ueda (research assistant),Fukagawa(research assistant)joined

2012/07/01

Ina (researcher) joined

2012/06/01

Matsuda (research manager) joined

2012/05/30

2012/04/23

Yoshikawa (staff) joined

2012/04/02

Start-up meeting was held

2012/04/01

Kuwahara (group leader), Ichiki (researcher), Okazaki (researcher), Kameya (researcher), Nakano (researcher), Matsui (researcher), Miki (researcher), Yamaguchi (researcher), Morita (techncian), Ohno (research assistant), Tatta (research assistant), Akita (administrative manager), Hashi (staff) and Yoshioka (staff) joined

2012/04/01

Asano Active Enzyme Molecule Project started. Kyoto branch was opened.

2012/02/01

Fushimi (staff) joined

2012/01/01

Dadashipour (researcher) and Yasukawa (researcher) joined

2011/11/01

Nishino (administrative Staff) joined

2011/10/14

2011/10/01

2011/10/01

JST staff was sended to Toyama Prefectual University fot start-up

2011/08/01

Prof. Asano was selected as ERATO Project Director