Our project have two following purpose.
1.Production of useful chemicals by enzymes
 Today, many useful chemicals such as intermediates of medicines are producted by organic syntheses. However, these syntheses are not good for the global environment, because severe conditions (high temperature, high pressure and so on) are required in these cases. While, many enzymatic reactions proceed in mild conditions (30℃~50℃, normal pressure), so the productive technologies using enzymes are more friendly with global environment. In our project, we seek to explore the enzymes which can be contributed to productions of chemincals in industry, and try to establish the eco-friendly technology.
2.Diagnosis by enzymes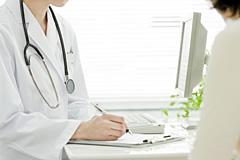 The concentration pattern of amino acids in blood is known to be changed in dependence on health conditions, so the determination of amino acids is focused as a next gereration diagnosis. However, the existing determinations of amino acids are expensive and complex methods such as LC/MS and amino-acid analyzer. Thus, new reasonable and easy to use methods are required. In our project, we seek to explore the high selective enzymes, and try to establish the method using enzymes for monitoring amino acid levels in blood.