Enzyme Engineering XXII Conference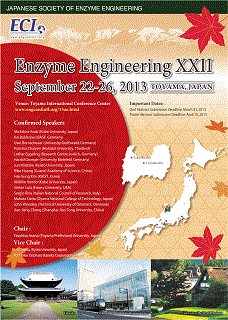 Enzyme Engineering XXII was held on September 22-26, 2013 in Toyama (Japan).
This conference is one of the authoritative conferences with more than 40 years of history, and many researchers participate from all over the world.
Enzyme Engineering is an environment-friendly approach;therefore it has an increasing importance.
Asano Active Enzyme Molecule Project Research Director,Professor Yasuhisa Asano acted as chairman of the conference to provide an environment for exchanging the information,opinions and experience in the comprehensive and advancing research in enzyme engineering from various aspects.
Thanks to you, the conference was a great success.
Reseach Director Asano won The 2013 Enzyme Engineering Award. And Researcher Yasukawa won The 2013 Enzyme Engineering Poster Competition Honorable Mention.
Please click here for the report of "JST Topics".

The program is available here.