Active Enzyme Molecule 2014
Active Enzyme Molecule 2014, an international conference, was held December 17-20, 2014 in Toyama, Japan.
This conference was hosted by ERATO Asano Active Enzyme Molecule Project, Japanese Society of Enzyme Engineering, and The Society of Biocatalysis Japan.
In this conference, the latest studies on enzymes in fundamental research, industrial application, and diagnostic application were presented.
More than 200 participants attended this conference from all over the world, and discussed cutting edge research results shown in 20 invited lectures, 20 oral presentations and 76 poster presentations animatedly.
All participants welcomed the successful this conference.
Prof. Yasuhisa Asano, Research Director of Asano Active Enzyme Molecule Project, contributed as Conference Chair, and our project had the special session of ERATO Asano Active Enzyme Molecule Project Progress Report in the afternoon of 18th.
This conference official website is here.

Program
The program is available here.
フォトライブラリー
Opening Remark
Research Director, Prof. Yasuhisa Asano

---
Keynote
Prof. Nicholas J. Turner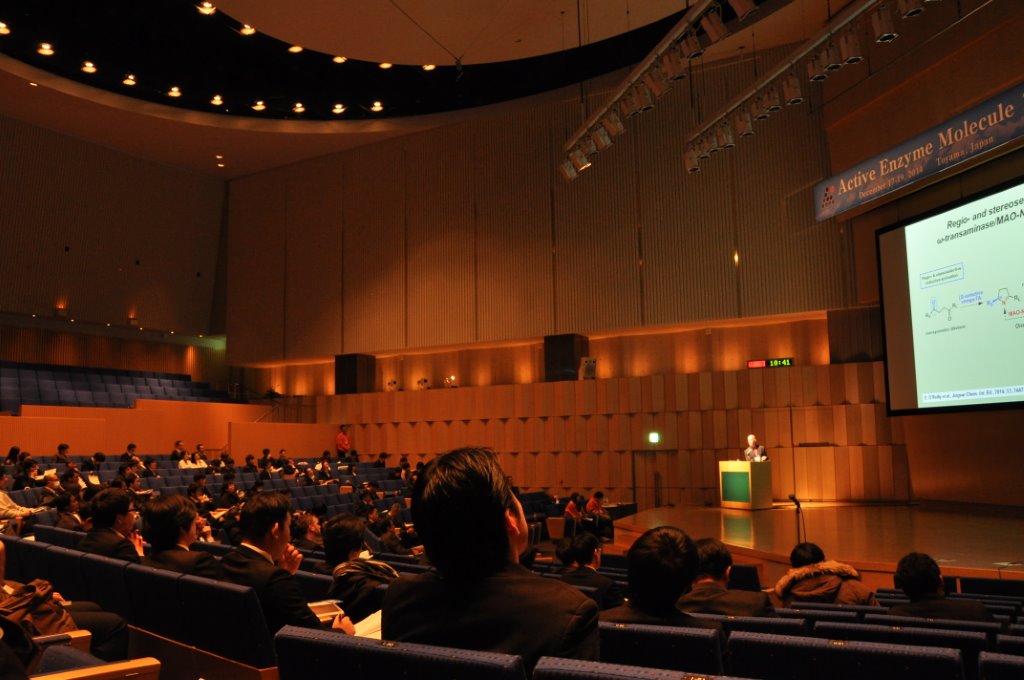 ---
ERATO Asano Active Enzyme Molecule Project Progress Report

Project coordinator, Dr. Isobe

Dr. Yasukawa
Newly evolved R-stereoselective amine oxidase applicable to a chiral (S)-amine synthesis

Dr. Ishida
Plants and animals are valuable bioresources for exploring novel enzymes

Dr. Dadashipour
Hydroxynitrile lyase from a millipede as a valuable tool for white biotechnology: purification, characterization and recombinant expression

Dr. Kameya
New enzymatic and microbial methods for selective assay of amino acid

Dr. Matsui
Soluble expression in Escherichia coli of heterologous enzymes by mutagenesis

Dr. Nakano
Endeavors to bridge a gap between wet and dry science in enzyme engineering
---
PosterSession
76 poster presentations

Dr. Metzner
Enantioselective aldoxime dehydratases – Synthetic proof and in silico studies

Dr. Matsui
Heterologous expression of L-lysine ε-oxidase by directed evolution using a fusion reporter method

Dr. Kameya
Application of aminoacyl-tRNA synthetase for selective determination of amino acids

Other poster presentations of our project
·Project coordinator Dr.Isobe Characterization of L-lysine decarboxylase/oxidase from Burkholderia sp. AIU 395 and its application to assay of L-lysine
·Dr.Nakano Application of INTMSAlign to design functional sequences of S-selective hydroxynitrile lyase
·Dr.Okazaki Structural study of an alkaline D-stereospecific endopeptidase from Bacillus cereus DF4-B
·Dr.Yamaguchi Biocatalytic synthesis of (R)-mandelic acid from L-phenylalanine using a combination of plant cytochrome P450s and bacterial nitrilase
·Dr.Yamamoto Efficient production of lumichrome by Microbacterium sp. TPU3598
·Mr.Kawahara Improvement of the stereoselectivity and catalytic efficiency by mutagenesis in hydroxynitrile lyase from Baliospermum montanum
---
Banquet
At ANA Crowne Plaza Toyama



Emcee, Mr. Kawahara

Toast! Sake, 尾仲(Onaka) by Toyama prefectural university yeast


The traditional dance and fork song called "Kokiriko" and The folk instrument called "Sasara" in Gokayama, Toyama.
---
Poster Award
| | |
| --- | --- |
| Dr. Miao received the Amano Enzyme Inc. Award | Ms. Oike,a student in our univerisity received the honorable mention |
---
Staff
Students of our university

Reception desk

Cloakroom

Special staff windbreaker
---