R&D Projects

Restoring a Beautiful and Rich Inner Bay through "Fish Local, Eat Local"
Principal Investigator
OTSUKA Koji
Professor, Graduate School of Humanities and Sustainable System Sciences, Osaka Prefecture University
(2016.10-2020.3)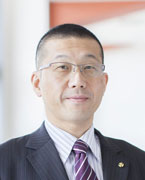 General Description of the Research Project
Due to world population growth, sustainability of food and water supply is under threat. Therefore, we need to reassess the role of inshore fishing as a source of protein, which can be obtained with limited usage of water and energy. However, a declining habit of eating local fish leads to reduced demand for inshore fishing, and aging and decreasing number of fisherpersons.
In this project, focusing on fish caught in Osaka Bay, which used to be known as the "Sea of Naniwa (fish garden)", we will develop a regional model to create a virtuous cycle of people, products and money. Specifically, we plan to recycle fish scraps for pebble-like fish aggregating devices to attract fish, create and present a promising model of fisherperson for children, and to develop cooking recipes using local fish, through intergenerational co-creation. In addition, we will establish a distribution channel for local fish and develop technology to maintain freshness to be applied there. With these activities, we will revitalize community-based fishing and fish-eating culture.