Environment / Energy (Carbon Neutrality)

Socialist Republic of Vietnam
Terminated
Principal Investigator
Associate Prof.
SHIRATORI Yusuke

Faculty of Engineering, Kyushu University / International Research Center for Hydrogen Energy, Kyushu University

Associate Prof.
Dang Mau Chien

Institute for Nanotechnology (INT), Vietnam National University-Ho Chi Minh City (VNU-HCM)
ODA Recipient Country
Socialist Republic of Vietnam
Research Institutions in Japan
Faculty of Engineering, Faculty of Agriculture, International Research Center for Hydrogen Energy, Kyushu University / Shizuoka University
Research Institutions in Counterpart Country
Institute for Nanotechnology, Vietnam National University - Ho Chi Minh City (VNU-HCM) / Ho Chi Minh City University of Technology, HCMUT/ Can Tho University
Adoption fiscal year
FY 2014
Research Period
5 Years
Overview of the Research Project
Fuel cell technology for local community development in Mekong Delta
Vietnam's rapid economic growth has resulted in environmental pollution caused by an increase in organic wastes* (bio-wastes). Local communities also have issues in obtaining stable power supply, indispensable for sustainable development. This project aims to create an ecosystem in which local residents can easily and efficiently convert bio-wastes into electricity by the application of compact fuel cell systems whose operation relies on an electrochemical process not on a combustion process. Here, a shrimp farm was selected as a model site to develop and demonstrate an energy circulation system incorporating fuel cell technology. Shrimp culture is one of the most important industries in Mekong Delta, the center of aquaculture and agriculture of Vietnam, where a huge amount of bio-wastes is released to the environment.
*Organic waste: Plant or animal-derived waste material, such as agricultural residues, crop processing residues, aquaculture pond sludge, livestock waste, and garbage.
Contribution to sustainable development of rural areas in developing countries with fuel cell technology
Global dissemination of fuel cell systems is expected to considerably reduce greenhouse gas emissions. In this project, a research and education network related to highly-efficient power generation technologies for low carbon society will be created, facilitating information sharing among experts, young Vietnamese researchers and local residents of the Mekong Delta region. Our final goal is the dissemination of ecosystems like that developed in this project to rural areas of Vietnam, in which local bio-wastes are fermented to produce biogas that is subsequently converted into electricity by fuel cell systems, and the green electricity obtained is used for local aquaculture and agriculture on site.
Photo gallery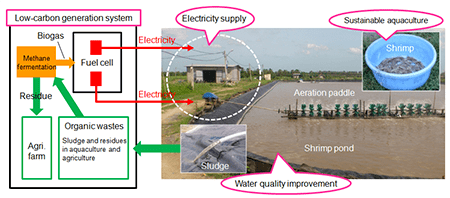 Energy circulation suitable for Mekong Delta region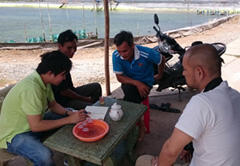 Discussions at a shrimp farm in Mekong Delta
Fuel cell systems can bring about development of local communities in Mekong Delta.
Research Project Web site
-
Press Release
-
Links