Principal Investigator
Prof.
Sudarto Notosiswojo

Faculty of Mining and Petroleum Engineering, Institut Teknologi Bandung (ITB)
ODA Recipient Country
Republic of Indonesia
Research Institutions in Japan
Kyoto University
Research Institutions in Counterpart Country
Institut Teknologi Bandung (ITB)
Adoption fiscal year
FY 2014
Research Period
5 Years
Overview of the Research Project
Accurately specifying spots suitable for power generation and promoting use of geothermal resources
Indonesia is a volcanic country with one of the world's greatest potentials for geothermal power generation. From criteria of power output and temporal stability, geothermal is the most promising renewable energy, and Indonesia plans to greatly increase its geothermal power output. This increase necessarily involves many deep drilling operations in order to identify spots suitable for geothermal power generation, which requires a tremendous expense. This project aims to reduce the initial costs and raise the identification success rate by integrating several methods that do not require drilling, such as satellite remote sensing and geomorphological analysis. The outcome is expected to promote the use of geothermal resources.
* Remote sensing: A method of obtaining data by remotely photographing or measuring the Earth's surface using sensors on board satellites or aircraft.
Promoting use of geothermal resources and reducing dependency on fossil fuels
Utilization of geothermal resources is expected to increase dramatically if the initial costs of geothermal power generation are reduced. The technology developed by this project will be applicable to countries located in volcanic zones and will potentially lead such countries to shift their main electric power source from fossil fuels to geothermal energy. As a result, the project will contribute to low-carbon and sustainable society development.
Photo gallery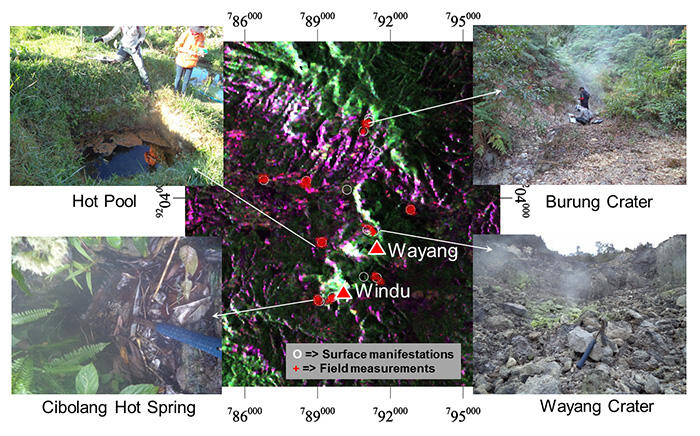 Geothermal manifestations around the Wayang Windu site. Working with instructors and graduate students at Bandung Institute of Technology to survey and analyze subsurface temperature, minerals, volcanic gas, and hydrothermal fluids.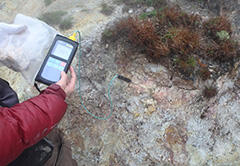 Sampling and measuring subsurface temperature at a hydrothermal alteration zone. Generation temperature of the alternation zone is estimated from the mineral composition.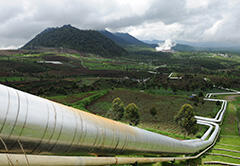 Location of the model site, Wayang Windu Geothermal Power Station, which can generate 227MW of electricity.
Research Project Web site
Press Release
-
Links