Our Program
Message from Area Director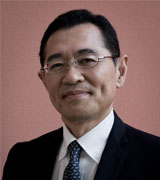 Area Director: Zentaro YAMAGATA
Professor, Department of Health Sciences, Basic Science for Clinical Medicine, Division of Medicine, Graduate School Department of Interdisciplinary Research, University of Yamanashi
Today Japan is experiencing a population decline as well as the aging of its society with the decrease in the birthrate. Moreover, fiscal conditions are tight. In this context, Japan will be able to continue to achieve steady development in the future only if it pursues innovation through the advancement of science and technology. However, in recent years, and especially since the Great East Japan Earthquake, science and technology as well as its researchers have been viewed harshly. Critics say that, despite the vast amount of funds invested in R&D, the outcomes are not helping to resolve the challenges that society faces.
Indeed, in science, technology and innovation (STI) policy to date, problems have been encountered not infrequently. Sometimes R&D investment has been made without adequate objective evidence. Other times, although great insights have been gained through basic research, the research outcomes have not been applied in an effective fashion so that they lead to innovations or the creation of systems to resolve challenges and advance society. Yet other times, outstanding policy ideas have been conceived, but they have not been implemented due to insufficient communication with the public. The root cause of this was the absence of clear, evidence-based methods to create STI policy.
To remedy this situation, our program aims to develop methods to formulate the following kinds of policies;
Policies that will lead to the resolution of real challenges by advancing the basic research and applying the research outcomes to the challenges and Policies that will promote the innovation of society by drawing on basic research. In this endeavor, it will be critical
To design a multistage process from basic research, to social application of outcomes, to evaluation of that application;
To develop methods for measuring the economic and social impact of R&D investment;
To build an effective research framework to form policies based on objective evidence; and
To ensure proper communication among policy makers, the scientific community and the public in order to promote the application of research findings in society.
This program is diverse in content and is expected to produce more concrete proposals. We look forward to seeing outstanding proposals with flexible thinking that deserves " Science of STI policy" .
Profile
Zentaro Yamagata received MD and PhD in medicine from University of Yamanashi. He became a professor, University of Yamanashi in 1999 and have been teaching public health, epidemiology and human genetics at school of medicine and graduate school of University of Yamanashi.
His professional interests focus on maternal and child health, DOHaD (developmental organs of health and disease), and social implementation of innovation. He has been a director of the center for birth cohort studies at University of Yamanashi since 2011. He has conducted some birth cohort studies including Japan Children's Study to clarify development of sociability based on neuroscience. His current projects include Japan environment and children's study (JECS), a birth cohort study involving 100,000 parent-child pairs, was launched in 2011 in order to evaluate the impact of various environmental factors on children's health and development.
He is a director of Japanese Society of Public Health, an auditor of Japanese Society of Child Health and was appointed the executive committee chairperson of the 27th annual scientific meeting of the Japan Epidemiological Association 2017. He has been a member of several committees of the Ministry of Health, Labor and welfare and, the Ministry of Education, Culture, Sports, Science and Technology.
He was born in 1958. He graduated from Yamanashi Medical University in 1986.