Principal Investigator
ODA Recipient Country
Malaysia
Research Institutions in Japan
Japan International Research Center for Agricultural Sciences (JIRCAS) / IHI Corporation /Hiroshima University / National Institute for Environmental Studies / Panasonic Corporation / NISSIN SHOJI CO., LTD.
Research Institutions in Counterpart Country
Universiti Sains Malaysia (USM) / Malaysian Palm Oil Board (MPOB) / Forest Research Institute Malaysia (FRIM) / Standard and Industrial Research Institute of Malaysia (SIRIM)
Adoption fiscal year
FY 2018
Research Period
5 Years
Overview of the Research Project
Develop technology that utilizes palm trunks to resolve oil palm plantation issues
Malaysia produces approximately 30% of the world's palm oil. Oil palm trunks (OPT), trunks from palm trees that are felled at the end of their economic life, are left on plantations, causing issues that include the spread of soil-borne diseases, greenhouse gas emissions from decomposition, and deforestation as tropical forest is cleared to make way for new plantations. This project is conducting scientific and economic assessments of the impact of OPT abandonment, and attempts to transform OPT into a more valuable resource by developing technology for producing a range of high-value-added products, including biogas and biodegradable materials.
Sustainable plantation management and creation of new industries through OPT technology
This project is based on collaboration between industry, government, and academia in Malaysia and Japan. It aims to raise the resource value of oil palm trunks and create new industries by developing technologies that utilize OPT to produce high-value-added products. This contributes to the achievement of sustainable palm plantation management by facilitating the removal and use of felled OPT and making replantation possible within existing palm plantations.
Photo gallery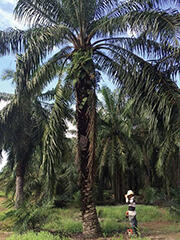 Oil palm. After growing for about 25 years, fruit bunch productivity declines, and the tree is felled.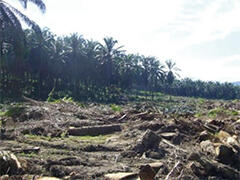 Plantation after felling. Oil palm trunks left on the ground are thought to have a negative effect on the soil environment, encouraging the spread of soil-borne pathogens.
A facility set up in Malaysia demonstrating technology for utilizing oil palm trunks. Equipped with biogas production/power generation and water treatment facilities, it produces high-quality OPT pellets and other high-value-added products from OPT with zero emissions.
Research Project Web site
Press Release
-
Links