Principal Investigator
Director General
Serhii Kirieiev

State Specialized Enterprise 'ECOCENTRE'
ODA Recipient Country
Ukraine
Research Institutions in Japan
Fukushima University / University of Tsukuba
Research Institutions in Counterpart Country
State Agency of Ukraine on Exclusion Zone Management / ECOCENTRE / Chornobyl Center for Nuclear Safety & Waste Management and Radioecology / State Nuclear Regulatory Inspectorate of Ukraine / State Scientific Technical Centre on Nuclear and Radiation Safety / Central Geophysical Observatory / National Institute for Strategic Studies / Ukrainian Institute for Agricultural Radiology / Radiation Protection Institute of ATS Ukraine / National Academy of Sciences of Ukraine / Ukrainian Hydrometeorological Institute / Institute of Mathematical Machine and System Problems / Institute of Safety Problems of Nuclear Power Plants / Institute of Hydrobiology / Institute of Geological Sciences
Adoption fiscal year
FY 2016
Research Period
5 Years
Overview of the Research Project
Enhance monitoring for understanding changes in the dynamics of radionuclides that may be caused by recent environmental changes
The Exclusion Zone surrounding Chornobyl Nuclear Power Station is contaminated by radiocesium and various other radioactive materials, which are still having a devastating impact even 31 years since the accident. The water level of the Chornobyl Cooling Pond is diminishing till 6 m lower level since the circulation pump has been stopped in 2014, that will provide changes in the water environment and surrounding ecosystem. In addition, there is concern that the frequent occurrence of forest fires will also have an impact on the transport of radioactive materials. The project aims to support the enhancement of monitoring and prediction of the environmental dynamics of radionuclides by taking the above-mentioned factors into account.
Strengthening the management of the Exclusion Zone through enhanced monitoring and model predictions
Recently, the Ukrainian Government provides the efforts to restructure the Chornobyl Exclusion Zone with the aim of more effective land utilization rather than the resettling of refugees, since radioactive nuclides with a far longer lifetime than cesium -137* exist in this area. Land use purposes under consideration include waste management, operation of solar panels and designation as a wildlife reserve to protect the wild animals that have increased in population. It is expected that the findings of this project, such as environmental dynamics of radionuclides materials and estimated exposure to radiation of workers that enter this area, will be useful in facilitating the effective management of the Exclusion Zone.
*Cesium -137: A radionuclide with a mass number of 137. Its half-life period is estimated to be about 30 years.
Photo gallery
Briefing on the status of Fukushima at SAUEZM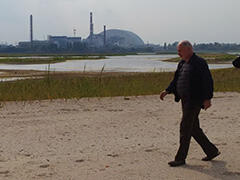 Present status of the cooling pond and Chornobyl's sarcophagus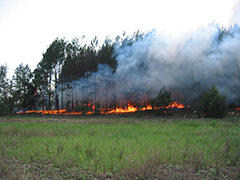 Forest fire experiment
Research Project Web site
Press Release
-
Links
-