Principal Investigator
ODA Recipient Country
Republic of Zambia
Research Institutions in Japan
Hokkaido University
Research Institutions in Counterpart Country
School of Veterinary Medicine, The University of Zambia (SVM-UNZA)
Adoption fiscal year
FY 2012
Research Period
5 Years
Overview of the Research Project
Identifying routes of virus transmission to humans and assessing a potential public health risk
The battle against infectious diseases in Africa needs to be addressed as a global issue. While viral zoonoses frequently emerge and spread in humans, livestock, and wildlife in Africa, relevant information and appropriate diagnostic techniques are not sufficiently provided. Consequently, there is an urgent need to deploy diagnostic techniques and to build capacity for research and education on viral zoonoses. The project involves surveys and research to elucidate the perpetuation mechanisms and transmission routes of viruses, attempting to clarify the factors behind the emergence of zoonotic viral infections.
Assessing the potential risk of disease outbreaks contributes to the control of viral infections
It will become possible to provide a scientific basis for the control of viral zoonoses by establishing accurate and sensitive virus detection methods that clarify the distribution and transmission routes of viruses in the natural environment. The project will contribute to efforts to control viral zoonoses by raising the standards of virology research and education in Zambia and by building networks with other African countries.
Photo gallery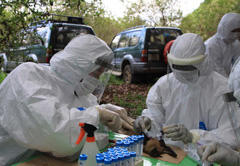 Captured bats may carry highly infectious hemorrhagic fever viruses, so researchers wear Biosafety Level 3 (BSL3) protective clothing.
Migrating birds may bring avian influenza, so their droppings are surveyed for viruses.
Research Project Web site
-
Press Release
-
Links
JST Topics