Last update: June 27, 2019
The Co-funding opportunities between the Japan Science and Technology Agency and the EU are no longer applicable for the 2019 Call for proposals for the topic "SU-DRS02-2018-2019-2020"
Japan Science and Technology Agency (JST) is accepting proposals for Japan-EU collaborative research projects in the field of "Technologies for first responders", in order to promote international research interaction and exchange among researchers in Japan and EU in the program of SICORP.
1. General Description
European Commission is accepting joint proposals in its HORIZON 2020 program (https://www.ncp-japan.jp/about). JST will support funding researchers from Japan participating consortium applying for this call.
3. Details of Support by JST
Researchers from Japan participating consortium applying for above call of HORIZON 2020 in the above-mentioned two subtopics will receive support by JST. Projects selected for funding in this call will receive support for a period of 3 years totaling no more than approximately 60,000,000 JPY including direct and indirect costs of 30% of direct costs per project. Full details of support can be found in the Japanese guidance information below. We support no more than 3 projects in total in this entire call.
4. Who can apply?
Researchers who belong to universities, research institutions, companies, first responders' organizations, local governments etc. can apply for this call. See Japanese guidance information below for more details about the eligibility. Applications are open to not only researchers of fundamental technology but also participants engaged in verification tests as end users as well as practitioners of the corresponding technologies.
5. Application Procedure
The Project Leader from the Japanese team must submit an application, legal compliance checklist and compliance agreement (応募様式別紙 (日本語様式)) directly to JST through e-Rad system (details to be posted in this site). In addition, the coordinator of the project consortium must also submit an application via the HORIZON 2020 portal.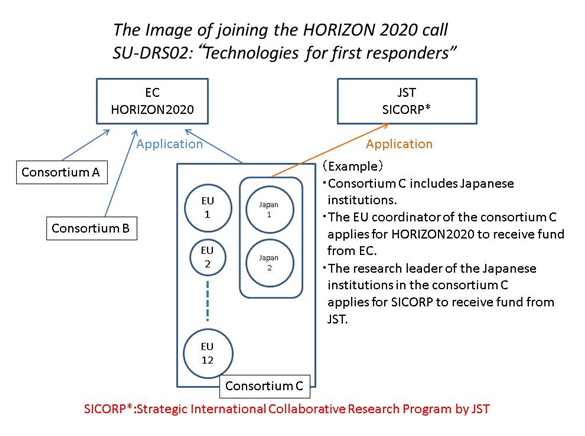 When submitting via e-Rad, they should upload the copy of Proposal Submission Forms submitted to HORIZON 2020 portal to e-Rad system as well.
For further application instructions and guidance, please refer to the following information (available only in Japanese): 「日本側応募者への応募にあたっての注意事項」.
6. Period of the Call for Proposals (e-Rad)
Deadline: Wednesday 29th August 2018, 17:00 (Japan time)
(Please refer to the webpage for the deadline for corresponding HORIZON 2020:SU-DRS02)
Applicants on Japan side are advised to discuss your project concept with consortium leaders and to complete the necessary procedures of registration of your organization to apply to HORIZON 2020 call for proposals beforehand. HORIZON 2020 National Contact Point will help your registration procedure for promoting application from Japan.
URL of National Contact Point https://www.ncp-japan.jp/
The call documents and guidance can be downloaded from below
7. Evaluation
As a prerequisite for the funding from JST, the application to HORIZON 2020 must have been adopted by the EC.
In addition, each proposal must also pass an independent evaluation conducted by JST.
8. Enquiries
(Be advised to ask questions by e-mails whenever possible.)
Japan Science and Technology Agency (JST) Department of International Affairs
Mr. Soichi KUBOTA, Mr. Clement Ng, Mr. Yuta KAWASHIMA
E-mail:jointeu(at)jst.go.jp (replace (at) by @ before sending)
TEL:+81-(0)3-5214-7375