Principal Investigator
Mr.
Kasbani

Head of Center for Volcanology and Geological Hazard Mitigation, Geological Agency, Ministry of Energy and Mineral Resources
ODA Recipient Country
Republic of Indonesia
Research Institutions in Japan
Kyoto University / The University of Tokyo
Research Institutions in Counterpart Country
Center for Volcanology and Geological Hazard Mitigation (PVMBG), Geological Agency, Ministry of Energy and Mineral Resources / Gadjah Mada University (UGM) / Research Centre for Water Resources (PUSAIR), Ministry of Public Work / Centre for Climate Change and Air Quality, Meteorological, Climatological and Geophysical Agency (BMKG), etc.
Adoption fiscal year
FY 2013
Research Period
5 Years
Overview of the Research Project
Integrated warning system for volcanic disasters through multi-disciplinary cooperation
Indonesia has 127 active volcanoes, and a high risk of multimodal sediment disasters due to volcanic eruptions. This project is attempting to develop an integrated observation system and simulators to mitigate various volcanic disasters, including lahar (mud flow), slope failure and dispersion of volcanic ash. By integrating systems such an early warning system of eruption, GIS multimodal sediment movement simulator, and airborne volcanic ash warning system, the project aims to develop a decision making support system for multimodal sediment disasters.
Deploying a support system for decision making to mitigate complex volcanic disasters
Successful development of the support system for decision making would enable the provision of information required by public sector disaster prevention entities for use in disaster prevention measures. There is also the potential to provide information directly to the public, including hazard maps, volcanic ash fall forecasts and sediment disasters.
Photo gallery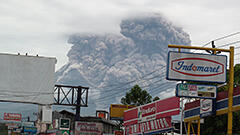 Pyroclastic flow associated with the November 2010 eruption at Mount Merapi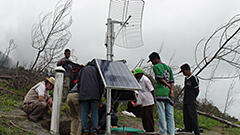 Installing GPS observation system on Mount Merapi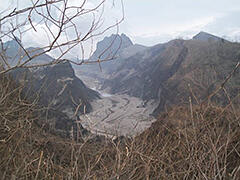 Pyroclastic flow deposit from Kelud volcano on February 13, 2014
Research Project Web site
http://www.svo.dpri.kyoto-u.ac.jp/indonesia-vs/en/
Press Release
-
Links
-