Practices
Support Health Improvement for Mothers and Children in China
Description
Daiichi Sankyo is supporting activities in the areas which have particularly high number of children suffering from developmental disorders for cultivating healthcare workers capable of contributing to better healthcare for children and mothers and for providing healthcare education to local residents. Together with Plan International, this project is carried out over a fiveyear period through collaboration with government health authorities and mother–child healthcare institutions.
Target
To improve health and nutritional conditions of children under the age of five in impoverished areas where ethnic minorities reside through improvement of the healthcare system.
Intiatives

The following initiatives will be implemented in six townships (approximately 60,000 households) in Guangnan County, Yunnan Province. 

(1) Developing medical professionals in community healthcare through training on integrated management of childhood illnesses
(2) Offering education to improve the capability of local pediatric care by establishing a community center.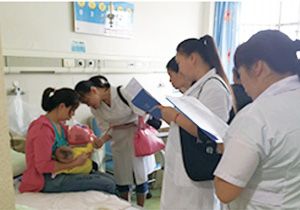 Contact Information
Daiichi Sankyo Co., Ltd.