[body]
this page

HOME > Strategic International Research Cooperative Program > Background and Objectives(Example introduction)

Japan- U.K. Research Collaboration - Bionanotechnology Workshop(U.K)
The research collaborations with the U.K. have started since 2004. The Strategic International Research Cooperative Program with the U.K. was set off by a meeting with Professor John Ryan whose specialty is bionanotechnology and funds of the Biotechnology and Biological Science Research Council (BBSRC).This program is promoting 11 research joint projects in the field of bionanotechnology. A number of researchers in bionanotechnology are holding workshops every year, presenting reports on progress and problems of their researches. This kind of workshop is alternatively held in Japan and the U.K., and the Oxford University with the atmosphere of academic world in 18th centuries was the meeting place in 2007. 50 researchers (30 from the U.K. and 20 from Japan) participated in the workshop and delivered presentations and discussed topics of bionanotechnology for three days. The workshop with horizontal connection is special and the success tributes to Professor Ryanfs initiative and personal magnetism. One of participants commented gthis workshop can make me transcend my limitation of research even in the different field or perspectiveh. The 4th workshop will be held in Kobe in 2008.

The dining hall reminiscent of the Harry Potterfs world
Professor John Ryan in the workshop

Microbiological Insight of Biological Nutrient Removal in Wastewater Treatment Processes and its Mathematical Modeling(China)
Takeshi Mino, Professor, Graduate School of Frontier Sciences, University of Tokyo
Counterpart Country: China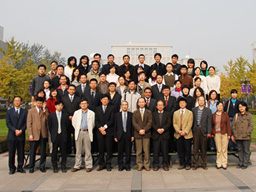 The Joint Workshop by Mino, Peng Group and Fujie,Yang-Hu Group October 25th, 2007 Beijing
This project represents an effort by research groups in Japan and China to promote research cooperation in the field of wastewater treatment by utilizing their respective areas of expertise. In China environmental problems are now being taken up as a priority field of the government, and environmental problems relating to water are especially important in a country that has little rainfall overall. Therefore, wastewater treatment is attracting attention as a key technology in the management of water resources.
Exchange was taking place with Tsinghua University in Beijing before the project began, but I feel that through this project relations with China have become even closer. I and my counterpart, Prof. Peng Yongzhen of the Beijing University of Technology, make reciprocal visits to each other every year, and we dispatch several doctorate or postdoctorate researchers from each side every year as well, so exchange is being advanced. In addition, exchange among researchers who are not directly involved in the project is lively, too.
As actual results, through three years of exchange, two peer-reviewed papers have been completed, and in the end we should be able to jointly write about 10 papers including those that have not been peer reviewed.
China's economic growth has been the topic of much talk recently, but while continuing exchange with China for several years now, what I have felt for some time is that China has grown in the field of science and technology. Supported by the governmentfs abundant financial power and priority investment in the environmental field, and furthermore by a strong top-down executive force, the building of the research environment is progressing at an amazingly fast pace. The rise in research levels is indeed astonishing.
Moreover, Chinese researchers and students are still engaged in research with a strong hungry spirit. I think that the stimulus received through exchange with such people and the fact that we have been able to put forward various new ideas by working together are the intangible benefits that have been gained through this exchange.