Practices
Bio-based PBS; Environmentally friendly polymer
Description
Mitsubishi Chemical Corporation is under the process of commercializing the world's first biobased PBS, an environmentally friendly polymer, at its joint venture with PTT Public Company Limited.
PBS, known for its superior bio-degradability, can add value to waste that would normally be landfilled or incinerated by allowing the waste to be turned into fertilizers through composting. Applications of PBS are growing rapidly, starting from item such as paper cups, cutlery, compost bags and mulching films for farming.
In addition, Mitsubishi Chemical's PBS could also be considered environmentally friendly as a bio-based polymer. Compared to the conventional fossil based polymer, bio-based polymers use sustainable resources which have a lower environmental impact and also provide new opportunities to the farming industry.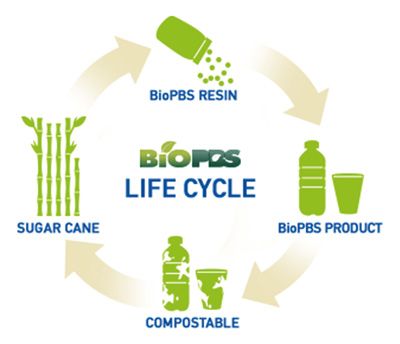 Contact Information
Mitsubishi Chemical Corporation
PTT MCC Biochem Co., Ltd.