Back to R&D Project List
Network Community for Refugees Dispersed in a Wide Area<CategoryⅡ>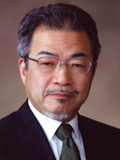 Project Director : Shigeru SATOH
(Professor,Waseda University)
(Length:3years)
1) To develop a network community as the basis for providing mutual, constant support for people from Namie, Fukushima, who have dispersed and lived apart since the radiation leak from the Fukushima Daiichi nuclear power plant
2) To develop and introduce to Namie people the transportation and ICT systems to sustain the network community
3) To develop measurement to assess the functions and implications of the network community for the lives of Namie people
Due to the Fukushima Daiichi nuclear power plant accident, many residents and local government authorities were forced to flee their hometowns and take refuge in temporary housing dispersed over a wide area. In addition, given the convergence of so many uncertain factors, there are no immediate prospects for reconstructing or returning home. This research involves a long-term study of the town of Namie (in Fukushima Prefecture), as well as the city of Nihonmatsu and the city of Fukushima, which are the principal areas that accepted the evacuees from Namie. These problems will be addressed in close cooperation with diverse stakeholders, including private organizations of citizens, welfare providers, corporations, and concerned government agencies.
By means of close liaison and integration between multiple "town-external communities" formed outside the original town of Namie and "town-internal communities" yet to be formed in Namie, and also through organic liaisons with the scattered public facilities, this "network community" will maintain the lives of the evacuated residents of Namie as a single community in the long term.
Thus, through this network community, we are working to develop a system enabling smooth mobility between facilities and communities as well as smooth exchange of information. We are working to enhance the lives of elderly evacuees in a stable manner in the long term as a basic mechanism for achieving a vibrant regional community.
To this end, various organizations and experts are cooperating with regional leaders to support reconstruction, working in conjunction with citizens of Nihonmatsu and various other towns to advance this project.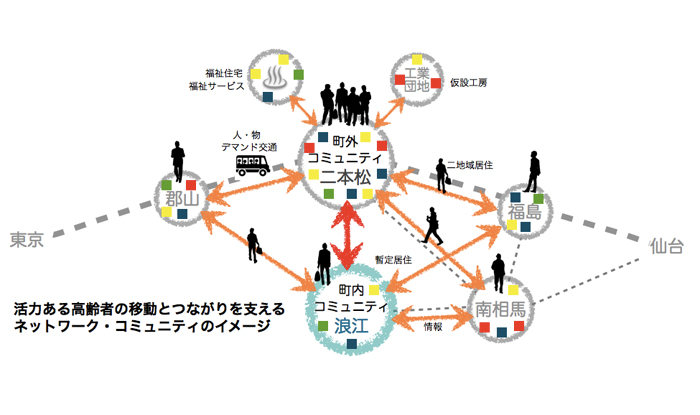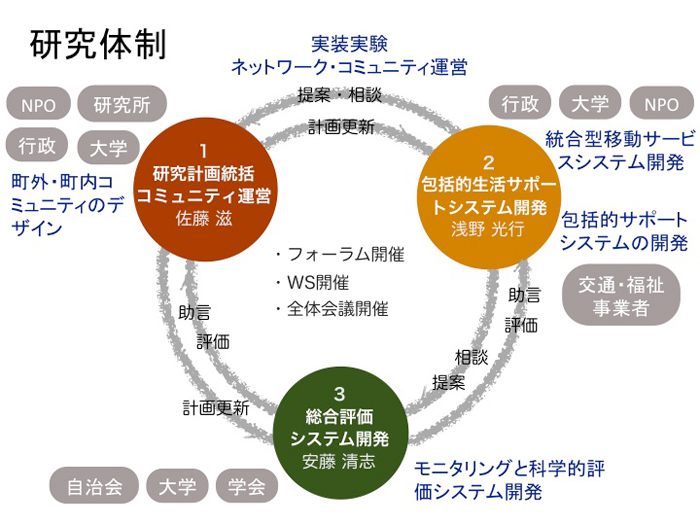 NPO Namie Shinmachi Urban Development
NPO JIN
The town of Namie


The city of Nihonmatsu


The city of Fukushima


NPO Takenetto


Fukushima Transportation, Inc.


Yotsuya Legal Office


Comprehensive Research Organization, Waseda University
At present (as of January 2013), the former residents of the town of Namie are living as evacuees—not only within Fukushima Prefecture, but also all across Japan, including the Kanto region. Immediately after the March 2011 disaster, most townspeople were evacuated to the cities of Fukushima and Nihonmatsu, where many temporary housing facilities were subsequently built. Nihonmatsu in particular has become a central residential hub for the Namie evacuees, with a temporary municipal hall and commerce and industry organization now established there, as well as Namie elementary and junior high schools. Additionally, many residents are living in temporary housing, which was leased from private housing. The original town of Namie has been dispersed, in a sense; many former residents are living scattered, solitary existences.
The target locations and communities of this research are the cities of Nihonmatsu and Fukushima, but at the same time these are overlapped by the town of Namie, giving rise to a situation that has never before been experienced. Furthermore, the currently emptied town of Namie is also a site of interest, due to the reconstruction and regeneration of this community and the preparations made for eventual return.
page top