Back to R&D Project List
Innovations in age-friendly farming<CategoryⅡ>

Project Director : Shingo TERAOKA
(Associate Professor, NARA Women's University)
(Length:3years)
1) To identify the challenges confronting agricultural areas in which older farmers predominate through the collaborative efforts of researchers from multiple disciplines including both natural and social sciences.
2) To develop devices to make it possible for older farmers to continue working as long as possible with the aim of sustaining such agricultural areas
Japan's rural-to-urban population shift has been ongoing since the post-war economic growth period, and this trend has been further spurred by the declining birthrate nationwide. As a result, given the aging of the population and the decline in young persons to take up the mantle of the next generation, in Japan's mountainous areas many rural village communities are facing a crisis of survival in the near future. Currently, those persons living in rural villages who still perform farming work are themselves aging. Even when people from villages in other regions move back to the village temporarily to take up agricultural work after retirement, this still represents farm work performed by the elderly. At the moment, rural village communities are being forced to maintain themselves as communities of elderly residents, centered on agriculture. However, in order for such communities to hand over smoothly to the next generation, the complex and multi-faceted situation of elderly village communities must first be investigated and understood; at the same time, it is essential to consider how to reduce the burden of farming work on the elderly.
Consequently, this project seeks to bring together researchers working in diverse fields in the natural and social sciences— including agricultural science, engineering, sports science, and sociology— to solve the problems by tackling a common theme: the elderly population engaged in agriculture. First, we need to identify the current situation with regard to these rural communities and their elderly residents. Subsequently, based on these findings, we seek to develop a combination of cultivation methods matched with appropriate products (Rakuraku Saibai or 'effortless cultivation') and easy-to-handle electric-powered trucks for long-term use by elderly residents in these communities, in order to increase the sustainability of elderly farming communities.

Nara Women's University


Nara Prefectural Agricultural Experiment Station


Sanko Seiki Co., Ltd.


Nara National College of Technology


Nara Prefectural Southern Promotion Department


The town of Shimoichi, Yoshino-gun, Nara Prefecture


Nara Prefectural Welfare Park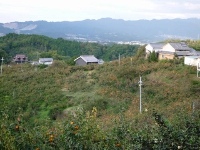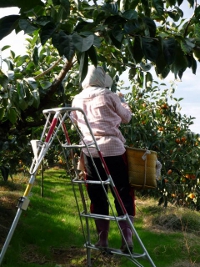 This project is sited in a hilly, mountainous region located in the southern part of Nara Prefecture. This historical region—including the Gojo and Yoshino-gun areas of Nara Prefecture where there is Yoshinogawa River, as well as Yoshinoyama, famous for its cherry blossoms—is described in poems and songs dating from the Manyo era. It is also known as the home of the Southern court during the Nanbokucho era. Yoshino-gun became significant for the forestry industry utilizing its vast forests (of Yoshino cedar, among others), but just as with other rural areas of Japan, it has been affected by depopulation and declining birthrate and aging population, such that deterioration of the local community is a major challenge. The specific site of this project is the Tochihara district of the city of Shimoichi, which has been affected by the aging of its population but in which the cultivation of fruits such as persimmon is still thriving, including in adjacent areas. Residents are working to create a farmer's market in the Tochihara district, as well as striving to enhance both local appeal and the production of manufactured goods and agricultural crops (with a focus on persimmons) in the surrounding area, but the elderly farmers are faced with harsh mountain terrain and the burden of farming these fruit trees.
page top