Back to R&D Project List
Development of a community-based comprehensive system for prevention of frailty in late life<CategoryⅡ>
Project Director : Shoji SHINKAI
(Leader, Research Team for Social Participation and Community Health,Tokyo Metropolitan Institute of Gerontology)
(Length:3years)
1) To establish an organization comprised of diverse members including community representatives to identify the challenges to promote late-life health and longevity.
2) To develop a comprehensive frailty-prevention program on the initiative of the organization above.
3) To evaluate the prevention program in terms of whether and how it helps maintain the health of older adults, control medical and long-term care costs, and expand the social capital of communities
4) To propose necessary social system to secure and elevate the feasibility of the prevention program in communities
According to research following elderly persons in Japan over a 20-year period, two major patterns were suggested regardingloss of healthy life expectancy and deterioration of essential functions later in life. The first pattern, in which function tends to decline comparatively rapidly, generally occurs between the ages of 65 and 74 years (the early stage of old age). The worsening of any medical conditions, particularly lifestyle-related diseases, is majorly implicated here. On the other hand, with the pattern occurring after the age of 75 (the latter stage of old age), functional decline progresses relatively slowly over a long period of time, with the person's state of frailty gradually worsening. The latter pattern represents 70% to 80% of total cases.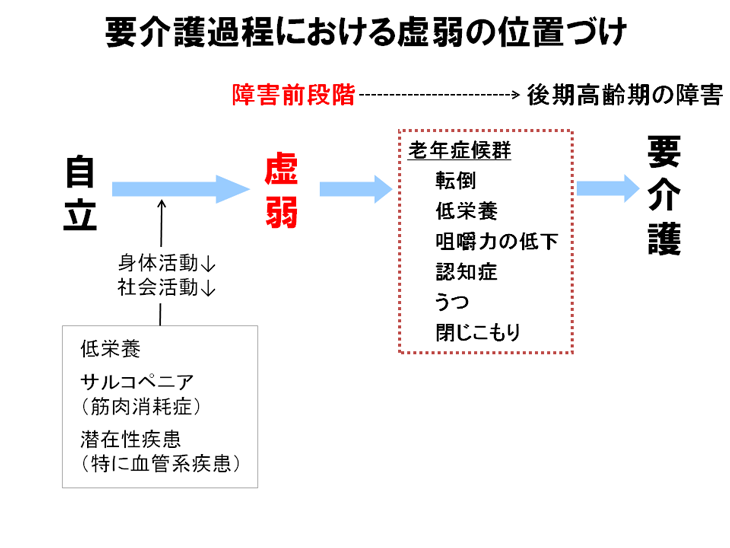 Given these findings, and with expectation that the healthy life expectancy of the elderly will extend in Japan, we believe that it is essential to prevent or postpone the occurrence of frailty that lies behind the deterioration of function in the latter stage of old age. In this field study, we examined three local municipalities (the towns of Kusatsu, Hatoyama, and the city of Yabu). Based on the latest findings of our research on frailty, we formulated primary, secondary, and tertiary strategies for prevention of frailty in the latter stage of old age, with government, residents, and expert organizations coming together to develop these preventative activities. Subsequently, these findings were assessed from several viewpoints: extending the healthy life expectancy of the elderly living in the target regions; their effect on suppressing medical expenses and long-term care costs; and evaluation from the perspective of social capital. We aim to propose a new social system based on the results of these social experiments, so that this support can be implemented in other regions to support health and longevity.

Research Team for Geriatric Pathology, Tokyo Metropolitan Institute of Gerontology


Hyogo Institute of Assistive Technology


Hyogo Prefectural Tajima Center for Longevity


The town of Kusatsu


The town of Hatoyama


The city of Yabu
In all three of the communities in which we conducted this research and development, we sought to build heath and promote long-term care and prevention for the elderly population.
Kusatsu, Gunma Prefecture
Famous as a spa town enjoying international tourism, this town of about 7,500 has an elderly population around 30%. While many of the residents involved with the tourism industry, some also represent a post-retirement influx of seniors. After the introduction of a health screening initiative for elderly persons in 2002, epidemiological studies into frailty were conducted here.
Hatoyama, Saitama Prefecture
This commuter town for Tokyo has a population of about 15,000 people, with an elderly population around 24%. The New Town neighborhood is a rapidly aging demographic, due to the number of baby boomers entering retirement. The 'Hatoyama Health Creation' joint research project is underway in the town, and there are many health-related volunteer activities.
Yabu, Hyogo Prefecture
This municipality has a population of about 27,000, scattered over a wide area, with an elderly population around 33%. A regional development method for preventative long-term care known as 'the Yabu method' has been underway here since 2006, in cooperation with the Tajima Center for Longevity.
page top