Back to R&D Project List
Senior citizens' new career model in the community <CategoryII>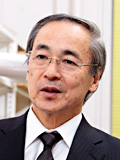 Project Director : Tetsuo TSUJI
Professor, Institute of Gerontology, the University of Tokyo
(Length:3years)
1) To create a senior citizen's new career model in the community that fits the way people live after retirement  and that contributes to solving community problems and to operate the project on a sustained basis
2) To verify the effects of the new career model after retirement  on elderly workers' health and sense of fulfillment, on interpersonal ties in communities, on local economies, and on local social welfare finances
Japan's population is aging. Into the future, this aging is expected to be especially swift in urban areas. With the Japanese baby boom generation now approaching 65, the number of middle-aged and elderly people who will retire and seek new ways to be active is likely to climb rapidly. How these new senior citizens -- healthy and undiminished in knowledge and physical strength -- will design their post-retirement lives and to what degree local communities will prepare environments where they can be active and apply their abilities are important issues for communities all over Japan.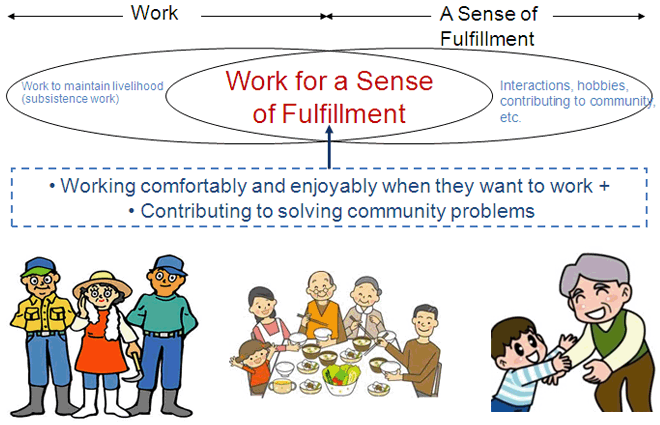 This project proposes the new concept of "work for a sense of fulfillment" as a mechanism to promote the participation of middle-aged and elderly people in their communities in a natural way. It creates work places for senior citizens in local communities where such people can maintain the lifestyles they were accustomed to before retirement, working more flexibly and comfortably and contributing to solving problems in the communities where they live.
The challenge for this project is to make these work places sustainable.

Through the project,
1) The effects of work on the workers' physical and mental health and their social activities and
2) The project's effects on community structure and the local economy
will be scientifically verified.
The results will be incorporated into a manual for the development of a senior citizen's new career model in the community. A wide application of the model to other communities will be promoted.
The site of the project will be Kashiwa City, Chiba Prefecture, which has developed as a bedroom community of Tokyo. The project will be developed by the University of Tokyo, Chiba University, Kashiwa City, and the Urban Renaissance Agency, with the cooperation of local residents and business. In concrete terms, seven model projects in three areas, Agriculture, Food, and Social Services , are planned.

Institute of Gerontology, the University of Tokyo


Kashiwa City


Urban Renaissance Agency


Center for Environment, Health and Field Sciences, Chiba University, etc.
Kashiwa City, Chiba Prefecture, is a core city with a population of more than 400,000 (as of December 2010). It is a key point in the Tokyo metropolitan area transportation system. In 1955, its population was about 45,000. Beginning around 1960, its population has increased by about 10,000 every year as it has developed as both a Tokyo bedroom community and a city with extensive farmlands and industrial parks. It is a typical suburban city.in Japan.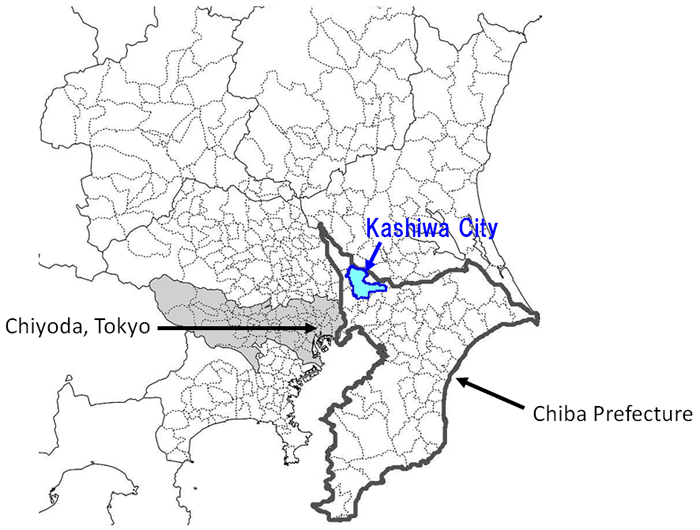 Within Kashiwa City, this project focuses particularly on the Toyoshikidai housing complex and surrounding communities. The Toyoshikidai housing complex was developed as rental housing by the former Japan Housing Corp. Occupancy began in 1964. The complex's history mirrors that of Japan's era of rapid economic growth. Over time, the buildings have aged, and some parts of the complex are being rebuilt. The residents have also aged, with the percentage of elderly in the community above 40 percent (as of October 2010), a striking level within the city. The project will develop the community as a model for other urban communities that seek effective means to re-design communities where people can age in place.

Institute of Gerontology, the University of Tokyo
page top