News & Topics
Parallel Sessions Held at the Science Forum South Africa (SFSA) 2021
The 7th Science Forum South Africa (SFSA2021) took place in Pretoria from December 1 to 3, 2021, hosted by the Department of Science and Innovation (DSI), Republic of South Africa. JST held two webinars, and Dr. Miyoko O. Watanabe, Executive Director at JST, was invited to speak in a panel session on scientific advisory. The SFSA serves as a platform to encourage active discussions among diverse stakeholders on the role of Science, Technology and Innovation (STI) in South African and Sub-Saharan African countries. Its goal is to strengthen strategic and international STI partnerships. DSI has a collaborative relationship with JST as a global partner of Science Agora, an annual open forum hosted by JST.
1. Reconsidering the Roots of Social Anxiety (December 1)
Session Title:Reconsidering the Roots of Social Anxiety
Organizer:JST
This session was an archived video streaming online of an organizer's project at Science Agora 2021 in November for the purpose of the global expansion of the discussion. The session focused on the themes of social isolation, loneliness, and social anxiety, which have recently become a common issue in Japan and other countries, and speakers from Japan, the United Kingdom, and the United Nations discussed to deepen understanding.
About Science Agora:

Session page at Science Agora 2021:
2. Promoting collaborative research in environmental science among Japan and African countries. (December 2)
Session Title:How can Japan, South Africa, and other African countries collaborate to create impactful innovations? The answer is "AJ-CORE", our ambitious STI action framework.
Organizer:JST
JST held a session to promote the new Africa Japan Collaborative Research framework AJ-CORE. The framework links Japan, South Africa and wider Africa, promoting trilateral research projects into important issues of both local and global concern. The session featured presentations from Japanese and African academics who described their joint research projects funded under AJ-CORE. Representatives of involved funding agencies also discussed the early successes of the framework and how it can be improved in future. AJ-CORE was praised for its clear contribution to the Sustainable Development Goals (SDGs), the inclusion of stakeholders from various sectors and groupings, and the strong potential for capacity building. Looking ahead, it was recommended that researchers have a clear idea of how results will be implemented in local communities and make real contributions to the lives of the end users. Similarly, in regards to capacity building, it was recommended that education be tuned towards securing the recipient a tangible job at the end of it. SFSA 2021 was a precursor to World Science Forum 2022, to be held also in South Africa, with the theme of "Science for Social Justice". Keeping in mind society's increasing expectation for science and technology to make real positive change to people's well-being, we will continue to develop AJ-CORE into a force for joint innovation and progress.
*AJ-CORE (Africa-Japan Collaborative Research) is a new multilateral research framework connecting three (or more) countries: Japan, South Africa, and at least one African country. Japanese teams will be supported by JST, and South African teams by the National Research Foundation (NRF).
3. New Perspectives on Government's Science Advice (December 2)
Session Title:If COVID-19 is the 9/11 moment for global science advice, what needs to happen next?
Organizer:SciCom
Moderator:Prof. Himla Soodyall, CEO, Academy of Science of South Africa (ASSAf)
In this session, speakers from the government's scientific advisers, science councils, and funding agencies discussed the state of science advice from various perspectives. Reflecting on the COVID-19 pandemic, Prof. Ene Ergma, Astronomist & former Politician & Speaker of the Estonian Parliament, emphasized the need for rapid political decision-making and the importance of policymakers and scientists sharing the same goals now that society's interest in science is getting even higher. Sir Peter Gluckman, President, International Science Council & former Chief Science Adviser to the government of New Zealand, mentioned his own experience; efforts to overcome the differences in both languages used in communication between policy and science communities were necessary for evidence-based policymaking. He then explained the need of diplomatic skills based on mutual humility and trust, and moreover mechanisms for integrating evidence through appropriate processes. From JST, Dr. Miyoko O. Watanabe, Executive Director, talked as a speaker. She pointed out that the penetration of education and the transparency to properly deliver information about the limitations of science were essential for scientists and scientific facts to earn public trust, using the COVID-19 situation in Japan and Japan's response as an example. Prof. Derrick Swartz, Special Adviser to the Minister of Higher Education, Science and Innovation of South Africa & Chief Strategy Advisor, Ocean Sciences, Nelson Mandela University, emphasized the need for ongoing discussions on how to harness scientific advice in policy and shape policy in an interdisciplinary and sustainable manner, as well as the need for integrity to be kept in that system. Having agreed with each panelist's comments, Prof. Rémi Quirion, Chief Scientist of Québec & President, International Network for Government Science Advice (INGSA), stated: efforts to build trust between politics and science, science and citizens, and citizens and politics in peace times, so that scientific advisory mechanisms can function in times of crisis, and democracy for equal access to science education ― these would continue to be important themes. The panel discussion covered a wide range of topics, as society's interest in science is growing more than ever due to the COVID-19 pandemic, in addition to the spread of open access and SNS. They talked about how to deliver information, the need to incorporate the voices of scientists from diverse regions, including Africa, into the scientific advisory system, and the importance of international partnerships to address globalizing social issues such as climate change.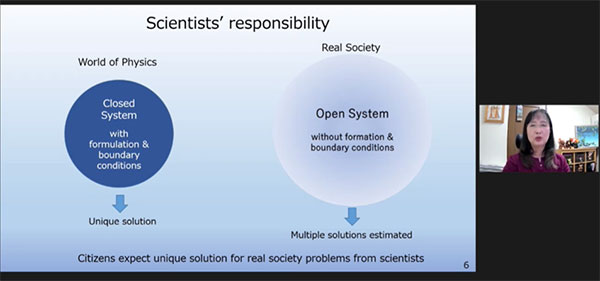 JST Executive Director Dr. Miyoko O. Watanabe gave a short lecture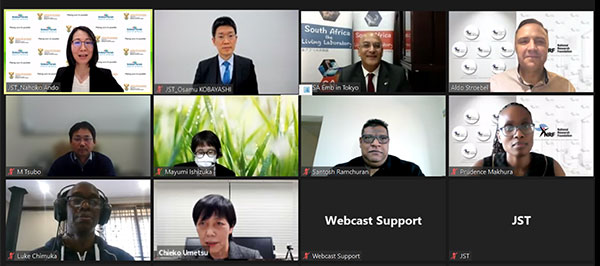 Speakers at the session "Promoting collaborative research in environmental science among Japan and African countries"