News & Topics
Opening Ceremony of the SATREPS Laboratory in Vietnam: Joint Project for Waste Management and Utilization of Recycled Construction Materials
October 03, 2019
Science and Technology Research Partnership for Sustainable (SATREPS)
Science and Technology Research Partnership for Sustainable Development (SATREPS) laboratory was established at the National University of Civil Engineering (NUCE) in Vietnam, and the opening ceremony was held on September 4, 2019. The laboratory is expected to be a research base of the project entitled "Establishment of Environmentally Sound Management of Construction and Demolition Waste and Its Wise Utilization for Environmental Pollution Control and for New Recycled Construction Materials" under the SATREPS program.
The ribbon-cutting ceremony was attended by the people who were involved in the project, including President Hiroki Yamaguchi and Principal Investigator Ken Kawamoto from Saitama University (SU); Rector Pham Duy Hoa, Vice Rector Phan Quang Minh, and Dr. Nguyen Hoang Giang from NUCE; Takuya Kudo, Second Secretary of the Embassy of Japan in Vietnam; Naomichi Murooka, Senior Representative of JICA, Vietnam; and journalists.
In Vietnam, the volume of construction and demolition waste has increased rapidly because of the infrastructural development, alongside rapid economic growth. This project promotes sound management and recycling of construction waste by establishing guidelines for handling construction wastes and quality standards for recycled materials, including dismantling and separation methods for creating recycled materials. Moreover, the project aims at improving the additional value of recycled materials by development of reuse technologies for water purification, permeable subbase, and others. We will propose a strategic business model to boost usage of recycled materials for building infrastructure and review its effectiveness with a local pilot program.
Some local media covered the opening ceremony of the SATREPS laboratory, and this indicated substantial interest for this project among the Vietnamese.
Link to local news sites:
Viet Nam News

https://vietnamnews.vn/environment/535032/viet-nam-japan-co-operate-on-construction-waste-management.html#w9j75CaITMZcLbf3.97

Nhan Dan Newspaper

https://www.nhandan.com.vn/khoahoc-congnghe/vi-moi-truong-xanh/item/41452302-nhat-ban-ho-tro-kinh-nghiem-tai-che-phe-thai-xay-dung.html

Communist Party of Vietnam Newspaper
Following the opening ceremony, NUCE–SU Joint Seminar 2019 was held, and many participants engaged in active discussions. The seminar will be continuously held hereafter, and research activities and outcomes will be reported. We are expecting further developments for this project.
Link to the program web site:

Link to the project web site: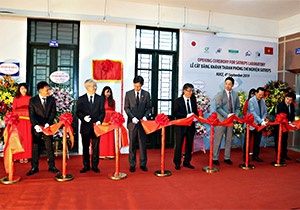 Delegates while cutting the ribbon at the opening ceremony of the SATREPS laboratory
Dr. Giang explaining about the equipment placed at the SATREPS laboratory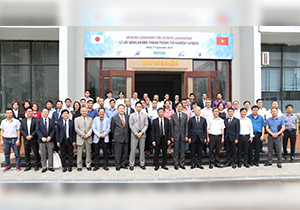 Attendees standing at the entrance of the NUCE's laboratory where the SATREPS laboratory has been opened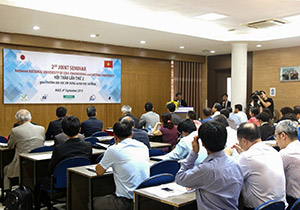 NUCE–SU Joint Seminar 2019