What's New - FY 2016
Event: JST @ SWITCH
11-15 November / Singapore
JST Singapore joined SWITCH (Singapore Week of Innovation and Technology) to exhibit three projects supported by JST:
Novel drug treatment for inflammatory bowel disease (Himuka AM Pharm Corp. from START program).
Eco biofilter-membrane bioreactor system for wastewater treatment and reuse (Chulalongkorn Univ. &Tokyo Univ. from SATREPS Program).
Sustainable utilization of stingless bee and its products (from JASTIP program).
Many people visited the JST booth and exchanged opinions with exhibitors about future cooperation. Current Ambassador of Japan to Singapore Mr. Yamazaki visited the booth on the first day. Himuka AM Pharma's president Mr. Shinjo was selected for a pitch talk. There were many talk events during the event. Dr. Shibata (AIST) who developed therapy robot "PARO" gave one such talk. Attendees of the talk, which was filled to capacity, showed a keen understanding of the ageing population issue which is now affecting Singapore as it does Japan. We were honored to support this talk and for JST's support for PARO's past development.
This year SWITCH was held at Singapore EXPO on 11-15 November.
About SWITCH
Organised by Enterprise Singapore, NRF and IPI, SWITCH is a platform where scientific discoveries and advancements are transformed into disruptive technology applications that will redefine the way we live. It focuses on deep tech applications in the areas of manufacturing, urban solutions, health and biomedical sciences and digital services.
SWITCH is where companies identify new technologies for business transformation and where collaborations are formed. It convenes entrepreneurs, investors, researchers, innovator and industry professionals from diverse backgrounds. Find out more at www.switchsg.org
Japan-ASEAN Consultancy Forum
The Japan-ASEAN STI for SDGs bridging Initiative 2019 was held in Bangkok.(https://www.setaasia.com/conference-workshops/ )
The event was co-sponsored by MEXT / JST, Ministry of Higher Education, Science, Research and Innovation (MOSRI), and TISTR (Thailand Science and Technology Research Institute). Research results of various JST-sponsored projects were presented, with an aim to implement and commercialize the results in ASEAN and Japan.
This first event featured discussions on bioenergy-derived renewable energy, with approximately 300 participants from Japanese and ASEAN research institutions and companies interested in social implementation. Through these lively exchanges of opinion the foundations for new networks were formed.
8th Annual Board Meeting of the e-ASIA JRP
The 8th Annual Board Meeting of the e-ASIA Joint Research Program was held 5-6 September. The e-ASIA JRP program is a multilateral funding initiative among 23 Funding Agencies (including JST) from 15 countries. In the role of program secretariat this is one of the biggest annual events for the JST Singapore office. We cooperated with Funding Agencies from this year's host country, Thailand, on a wide range of tasks including planning the meeting agenda, hotel and venue logistics, and running the meeting on the day.
This year representatives of 14 agencies from 10 countries gathered to select projects for the 8th call (for fields of agriculture, health and materials) and discuss issues including future program management. The next annual meeting will be hosted by an American agency.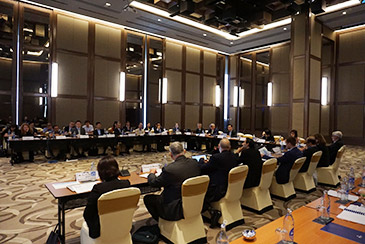 Japanese students visit the office
3, 7, 17 October / Singapore
We received visiting students from three Japanese schools. Opportunities to communicate with the younger generation are always enjoyable, as they always give us something new and interesting to think about. Hopefully the visits encouraged the students to be more interested in science, technology and international affairs, and perhaps choose it as their future career path.
October 3: we received four students from Tokyo University's Integrated Human Science Program for Cultural Diversity (IHS); we discussed Singapore's science and technology polices and plans (such as RIE2020).
October 7: we received 40 students from Mishima-Kita High School, Shizuoka Prefecture; we explained about the activities of JST, the Singapore office, and the surrounding Biopolis (biomedical research area).
October 17: we received 35 students from Haruhigaoka High School, Aichi Prefecture; after watching videos of Swedish climate activist Ms. Greta Thunberg, we discussed what other teenagers can do. The students also made presentations about their 6-month research related to environment and energy.
The 16th Gender Summit
28-29 August 2019/Biopolis (Singapore)
At the Gender Summit, international scientists, policy makers,and gender experts examine how research and innovation can be improved through a gender dimension in a way that benefits society. The dialogues consider both biological (sex) and sociocultural (gender and diversity) factors as research variables, as research subjects, and as contributors to different outcomes in men and women, for evidence-based action and outcomes.
Ms Chan, Chairman, A*STAR Permanent Secretary, National Research and Development is the guest-of-honour. Keynote speakers include Prof. Hamaguchi, President, JST and Hon. Prof. Suresh, President of Nanyang Technological University, Singapore.
Super Science High Schools (SSH) briefing session
A briefing session was held at Hwa Chong Institute for students and parents participating in the Super Science School fair in Kobe. There will be three schools participating from Singapore, including Raffles Institution and St. Joseph 's Institution. At the 2-day fair each school will give a 10-minute presentation in a poster session and exchange ideas with participants from Japan and overseas. In addition, on the day after the fair, they will visit the Great Hanshin-Awaji Earthquake Memorial Museum to learn about Japan's disaster management and mitigation.
Super Science High Schools(Japanese only)
https://www.jst.go.jp/cpse/ssh/ssh/public/sshevent.html
JST attends AJCCST-10
27 June 2019/Denpasar (Bali)
We attended the 10th Meeting of the ASEAN-Japan Cooperation Committee on Science and Technology (AJCCST-10) to discuss cooperation between Japan and ASEAN , and the status of activities of various JST programs. It was a very meaningful meeting in which lively discussions by participants took place in a relaxed atmosphere, with gratitude expressed for Japan's long-standing support of ASEAN.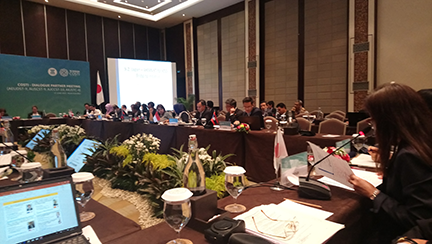 Greater Mekong Sub-region University Consortium Teaching and Research Capacity Development Workshop II
The South-East Asian Ministries of Education Organization specializing in regional higher education development (SEANEO-RIHED) with assistance from the Japan-ASEAN Integration Fund (JAIF) held the "GMS-UC Teaching and Research Capacity Development Workshop II" aimed at higher education government departments and university governors in the Mekong River Basin countries (Thailand, Laos, Cambodia, Myanmar, Vietnam). To an audience including many education department officials and vice-presidents of universities, our director Ms. Kaneko gave a keynote speech entitled "Current situation of promotion of diversity research in Japan – Initiatives by Japan Science and Technology Agency (JST)" and introduced the activities of JST promoting advanced basic research according to policies of the Japanese government. Following this she could communicate with many people and it was a valuable opportunity to expand our network in this active region.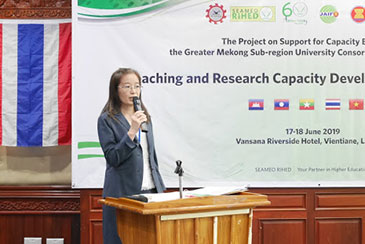 Nine high school students visit from Japan
Our office was visited by nine students from Hibarigaoka Gakuen Junior & High School in Takarazuka City, Hyogo Prefecture, who came to Singapore on a school trip. Hibarigaoka Gakuen takes interested students to a range of Japanese organizations during these school trips, and our office was one of the six locations that groups of students were introduced to.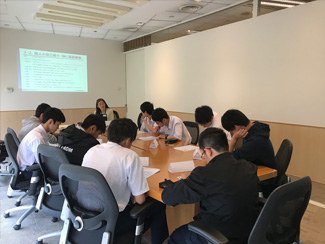 More...

Sakura Science High School Program (SSHP) briefing session
A briefing session was held for students and parents participating in this year's Sakura Science High School Program (SSHP) at the Nanyang Girls' High School.
A total of 10 students (15-16 years old) will attend this year, 5 students each from Nanyang Girls' High School and Hwa Chong Institution from Singapore. With 70 students from China, Korea and Malaysia, they will visit Tokyo, Kanagawa and Saitama from June 16-21.
During the visit they will conduct experiments at Rikkyo University with Professor Hideki Shirakawa, who received the Nobel Prize in Chemistry in 2000, and visit the Japan Agency for Marine-Earth Science and Technology (JAMSTEC), the National Museum of Emerging Science and Innovation (MIRAIKAN), and the University of Tokyo. In addition to touching on science and technology, they will also understand Japanese culture through exchanges with local high school students in Saitama City and visits to the Edo-Tokyo Museum, Asakusa, and Kamakura.
More...

The 6th STS Forum ASEAN-Japan Workshop in Singapore April 23, 2019
The 16th STS Forum ASEAN-Japan Workshop was held April 23 at the Grand Copthorne Waterfront Hotel (Singapore). Organized by the Science and Technology in Society Forum (STS Forum) and Agency for Science, Technology and Research ( A * STAR), co-organized by Japan External Trade Organization (JETRO) and supported by the Embassy of Japan in Singapore, the workshop was attended by some 160 top executives from Japan and ASEAN countries.
Participants entered lively discussions and built networks inducive to future cooperation. JST's executive director Dr. Goto and director of department of international affairs Mr. Kobayashi also attended, along with director of the Singapore office Ms. Kaneko.

More...