TouchMe: An Augmented Reality Based Remote Robot Manipulation
Sunao Hashimoto, Akihiko Ishida, Masahiko Inami, Takeo Igarashi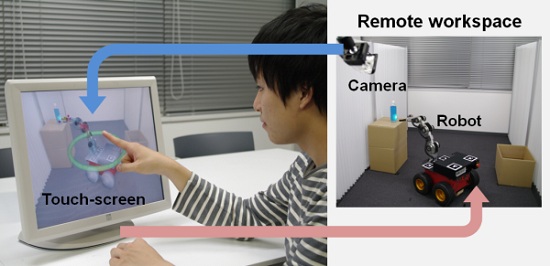 Abstract
The most popular remote control method for robot is a joystick and a gamepad. However, these methods are difficult for inexperienced users because the mapping between the user input and resulting robot motion is not always intuitive. To solve this problem, we propose a augmented reality based interface for remotely controlling a robot from a third-person view, which is called "TouchMe". This system allows the user to manipulate each part of the robot by directly touching it on a view of the world as seen by a camera looking at the robot from a third-person view. Our system provides intuitive operation, and the user can use our system with minimal user training. In this paper we describe the overview of TouchMe and its prototype implementation. We also introduce three touch interaction methods for controlling the robot in response to user's manipulation and report on the results of empirical comparisons of these methods.
Publication
Sunao Hashimoto, Akihiko Ishida, Masahiko Inami, Takeo Igarashi,
"TouchMe: An Augmented Reality Based Remote Robot Manipulation",
The 21st International Conference on Artificial Reality and Telexistence, Proceedings of ICAT2011,
Osaka, Nov. 28-30, 2011. Honorable Mention.

Video