Sketch and Run: A Stroke-based Interface for Home Robots
Daisuke Sakamoto, Koichiro Honda, Masahiko Inami, and Takeo Igarashi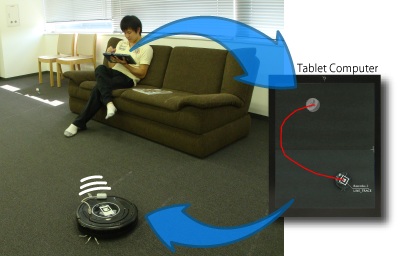 Abstract
Sketch and Run is a stroke-based interface for controlling home robots with intuitive interaction technique.

Numerous robots have been developed, and some of them are already being used in homes, institutions, and workplaces. Despite the development of useful robot functions, the focus so far has not been on user interfaces of robots. General users of robots find it hard to understand what the robots are doing and what kind of work they can do. This paper presents an interface for the commanding home robots by using stroke gestures on a computer screen. This interface allows the user to control robots and design their behaviors by sketching the robot's behaviors and actions on a top-down view from ceiling cameras. To convey a feeling of directly controlling the robots, our interface employs the live camera view. In this study, we focused on a house-cleaning task that is typical of home robots, and developed a sketch interface for designing behaviors of vacuuming robots.
Publication
Daisuke Sakamoto, Koichiro Honda, Masahiko Inami, Takeo Igarashi,
Sketch and Run: A Stroke-based Interface for Home Robots, In Proceeding of the Twenty-Seventh Annual SIGCHI Conference on Human Factors in Computing Systems (CHI2009), Boston, USA, April 2009.