ERATO http://www.jst.go.jp/erato/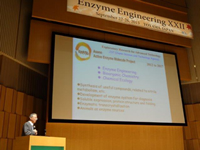 Opening remarks form Dr. Yasuhisa Asano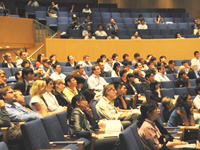 Participants listening to lecture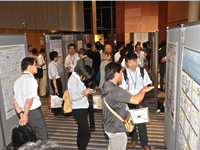 Poster session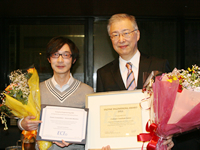 Research Director Asano and Researcher Yasukawa receving award
Chaired by Yasuhisa Asano, research director of the ERATO Asano Active Enzyme Molecule Project, Enzyme Engineering XXII was held at the Toyama International Conference Center from Sunday, September 22 to Thursday, September 26, 2013. Enzyme Engineering International Conferences have the longest history of all international conferences sponsored by the Engineering Conferences International (ECI). It is one of the prestigious conferences where researchers in the field of enzyme engineering across the world are willing to participate. It was the first time in 24 years the event was held in Japan.
The number of registered participants was 283 (137 from Japan, 146 from overseas). With 87 oral presentations and 133 poster presentations, the event was more successful than it had been in recent years. The conference included the JST ERATO Asano Active Enzyme Molecule Project Special Sessions on the mornings of the 23rd and 24th. Prominent researchers from all over the world were invited. The sessions included 14 fascinating lectures and lively discussions.
Enzyme engineering research is conducted as part of the ERATO Asano Active Enzyme Molecule Project. It is a field of research based on a substance production method that is friendly to the environment. In addition to the chemical industry, it is utilized by industries such as the food and pharmaceutical industries, and its importance is constantly growing. The ERATO Asano Active Enzyme Molecule Project Special Session was therefore held to serve as a place to promote multifaceted, comprehensive research of enzyme engineering and for researchers from all over the world to discuss and share the results of cutting edge researches.
Enzyme engineering researchers from wide ranges of field such as businesses and Universities were invited to participate in the Special Sessions. In his lecture, Professor Romas Kazlauskas of the University of Minnesota reported he had predicted and created predecessor enzymes, and had succeeded in catalyzing various reactions with the enzymes he created. Professor Joelle Pelletier of the University of Montreal reported on research of enzymes pertaining to synthesis and decomposition of amide bonds in his lecture. Professor Pelletier also mentioned the research could be applied to fine chemistry, the food industry and synthesis of medicines. One of the lecturers invited from the private sector, Dr. Kai Baldenius of German corporation BASF introduced methods of producing cosmetics and various optically active substances sold by his company. The sessions also included various outstanding lectures, active question and answer sessions, and passionate discussions. Lively discussions were also seen throughout the venue, invitation lectures, general lectures and poster presentations, as well as the Special Sessions. The great success of this symposium promise technological innovations by enzymes in the near future.
In addition to research director Professor Asano receiving the 2013 Enzyme Engineering Award, Kazuyuki Yasukawa was selected for Poster Competition Honorable Mention. The event provided a good opportunity for discussion among participants from various countries.