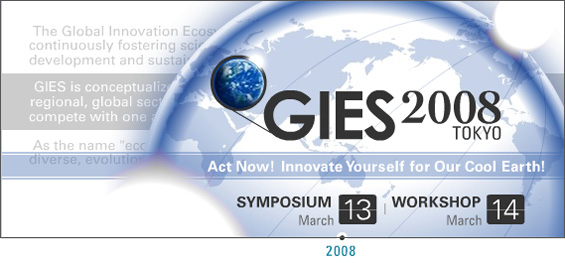 GIES2008, the third international conference in the series, will provide a forum for interested parties to further discuss how to establish the GIES and utilize it to solve global problems in a more concrete way. Establishment of the GIES is not only important for public sectors but also crucial for sustaining continuous private-sector growth. (Scope & Agenda)

March 14, 2008

GIES2008 was highly successful, attracting more than 500 participants from Japan and Overseas.

Hitotsubashi Memorial Hall, National Center of Science Building

2-1-2 Hitotsubashi, Chiyoda-ku, Tokyo 101-8430 Japan

Date: March 13, 2008
Languages: Japanese and English
(Simultaneous interpretation provided)
Day 1 will be a symposium open to the public, with participants representing the Japanese government, leading businesses, and academic communities, with international guest speakers and panelists. This part will include keynote speeches and a panel discussion on the future of our global society and the balance between cooperation and competitiveness.

Date: March 14, 2008
Languages: English
(Including Japanese Session)
Day 2 will be for invited participants only, to continue discussions on the creation and utilization of the GIES. Parallel sessions will draw up scenarios for addressing the global issues through science-based innovation.
In the final session, we shall produce a statement on the actions each country should take in order to establish the GIES through global cooperation and resolve the common problems facing our planet in the future.