News & Topics
Video series "Ask the Future" released to share the passions of researchers working on Moonshot R&D Program
Department of Moonshot Research and Development Program
In the Moonshot R&D Program, many researchers are working toward the realization of "new MIRAI" by 2050. Of the nine R&D program goals, JST is responsible for six goals, with approximately 600 project managers and performers involved in the research.
In the videos, we interviewed two of the project performers about their views on the program.
■Goal 2 Performer: Dr. Eiryo Kawakami of Chiba University and RIKEN
The project "Understanding and Control of Virus-Human Interaction Networks" by PM Matsuura is a part of the Moonshot R&D Program Goal 2 "Realization of ultra-early disease prediction and intervention by 2050."
■Goal 3 Performer: Associate Professor Yukino Baba, The University of Tokyo
The project "AI & Robots that Harmonize with Humans to Create Knowledge and Cross Its Borders" by PM Ushiku is a part of the Moonshot R&D Program Goal 3 "Realization of AI robots that autonomously learn, adapt to their environment, evolve in intelligence and act alongside human beings, by 2050."
Dr. Kawakami's interview took place in January 2023 at Inohana Campus, Chiba University.
The video was shot in an interactive setting with the director, based on a questionnaire prepared in advance.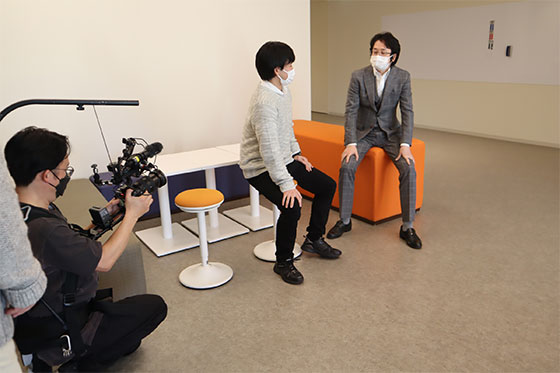 The interview with a student was shot using a hand-held camera with a support stick
that extended from the cameraman's back. The student seemed a little nervous.
Dr. Baba's interview was shot at Komaba Campus, The University of Tokyo, in early March, a little ahead of the cherry blossom season. Since she had just moved to The University of Tokyo from the University of Tsukuba, her room still had the bright white interior. The interview was conducted beside a natural wood-finish table.
The way she politely responded to the director one by one reflected her personality.
Dr. Baba's office is filled with her favorite things, ranging from videoconferencing equipment to her humidifier and hand soap. There are cute figurines along with academic books on the shelves.
The introductory scene was shot in Dr. Baba's office.
While filming, I felt the passion of the researchers who are boldly taking on the "new MIRAI" challenge in their respective fields. The English subtitles are available on YouTube. Please take a look!