News & Topics
STI for Global Challenges: International Research Collaboration Against the COVID-19 Crisis
Deparment of International Affairs
JST held an online seminar "STI for Global Challenges: International Research Collaboration Against the COVID-19 Crisis" on December 15, 2021, aiming to stimulate multiregional and interdisciplinary collaboration in the fight against COVID-19. The event was associated with the 13th Summit of the Asia-Europe Meeting (ASEM13) on November 25 and 26 and co-organized by the Asia-Europe Foundation (ASEF) to strengthen the cooperation between Asia and Europe in Science, Technology, and Innovation field.
Prof. AMANO Hiroshi, 2014 Nobel Prize Laureate in Physics, Nagoya University delivered a keynote speech on his research "Challenge to Eradicate Virus Infection with a Compact DUV Light Source". There were then two concurrent sessions in which fourteen researchers from Asia, Europe and Oceania presented their research findings on COVID-19, from a variety of fields such as medicine, social sciences, biology and informatics. This included the JST funded researchers through the e-ASIA joint research program and the CREST funding program. There were active discussions among participants and suggestions for future cooperation.
The event was attended by a diverse audience of 130 stakeholders from 30 countries. According to the post event survey, the audience particularly valued the variety of presenters and academic disciplines being discussed and expect that similar events will be held in the not-too-distant future.
STI for Global Challenges Website:
CREST Website:
e-ASIA JRP Website: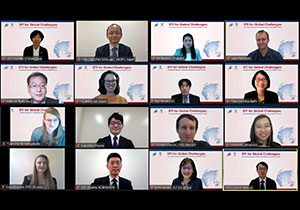 The speakers who joined the event