News & Topics
Miraikan—"Curiosity that changes the world" and "Future of brain and AI":
Thinking from the forefront research presented by the new exhibitions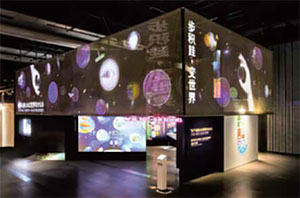 The entrance of the new exhibition at the "Explore the frontiers" zone.
A large panel shows a correlation diagram of the curiosity and worldview.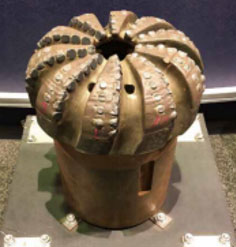 The real core bit used in the Japan Trench Fast Drilling Project. The cutters that include the artificial diamond had become worn-out and jagged.
Miraikan — the National Museum of Emerging Science and Innovation, has welcomed the new Chief Executive Director Chieko Asakawa in April, and the new permanent exhibitions have started since March.
"Many Small Insights = Major Discoveries: Explore Earth, Life, and the Universe" that joins in the "Explore the frontiers" zone on the fifth floor. Visitors to this exhibition will experience how amazing human endeavors stemmed from curiosity have propelled basic research.
From ancient times, we have updated our understanding of the world through tenacious attempts to unravel the mysteries of the universe, the Earth, and living things. This section picks up the Deep-sea Scientific Drilling Vessel Chikyu, the asteroid explorer Hayabusa2, and the large radio telescope ALMA. Visitors will experience the grandeur of humankind's challenges and sense of scales with photographs, videos, and actual equipment and models. In addition, they will learn the forefront of basic science through interview videos with researchers.
On the third floor, "Visionaries Lab" in the "Create your future" zone is the place for specialists and visitors to think together about realization of "Vision = Ideal Future Image." In the second term exhibition "Advancing 'neurointeligence' Brain Observers and Creators," visitors will have various experiences relating to the intelligence and brain while observing the front line of the fusion of brain research and artificial intelligence (AI) research. By discovering the similarities and differences between the human brain and AI, visitors will explore the possibilities of how AI can be created from brain research and how AI can advance brain research. Visitors can envision a future in which the brain and AI will merge and have chances to express their opinions.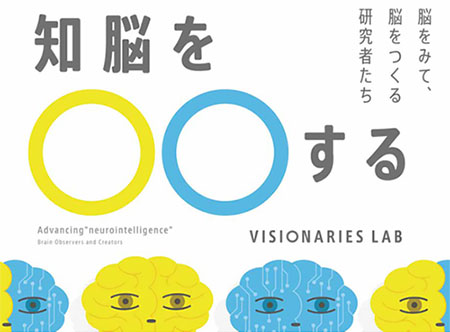 At "Visionaries Lab" in the "Create your future" zone. You will discover the cutting-edge research of the brain and AI.
If you understand the intentions and positions of science and technology from a broad perspective, you can understand the schemes of advanced research. Let's think of your curiosity and the future of the world.