News & Topics
Miraikan released a new SDGs workshop for climate change
Materials and a guidebook are now on the website
The National Museum of Emerging Science and Innovation (Miraikan) is holding a workshop themed on "Take urgent action to combat climate change and its impacts," the 13th goal of the Sustainable Development Goals (SDGs), toward school students.
Players will be divided into 5 groups (virtual countries) that consists of 2 to 5 people. They try to protect their own country, as leaders, from hazardous events related to Climate Change and decide their policies on the basis of the nation's economic conditions and scientific information provided by scientists. Players will find different opinions within their groups and discuss with other nations under the various situations. Through these experiences, they will foster the global mindsets, views and learn the importance of dialogue for problem solving and partnerships with other nations.
We received many favorable comments from participants such as, "I could raise my awareness of global issues" and "Besides enjoying the game, we could learn the difficulties of cooperation with other nations under different situations."
All materials and a guidebook for facilitators are provided free on Miraikan's website both in Japanese and English. Moreover, the sessions for teachers and the staff of scientific museums and other museums are held randomly. This is designed for students of elementary school upper grades to adults, so we hope they enjoy this activity in schools and groups.
Playing the board game.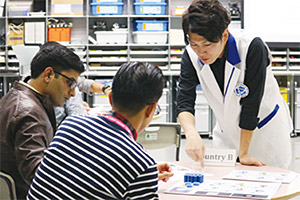 The workshop materials are available for English speakers.
For more details, visit the Miraikan website: