Questionnaires
How long have you lived in Ninomiya House?
How are you enjoying living in Ninomiya House?
What would you think you benefit from living in Ninomiya House?
What would you think should be improved at Ninomiya House?
Would you choose Ninomiya House if you have a chance to come back to Tsukuba?
Answers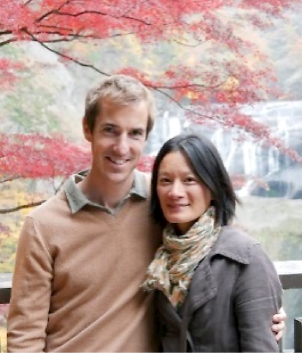 from Ninomiya House Bus Tour held in November 2015
Dr. Christine Hoa (from France, CEA representative at JAEA) and her husband,
Dr. Florian Reboul-Salze (researcher at AIST)
5 months
The apartment is very comfortable: well furnished, clean, large windows. The decoration (wallpaper, floor, shoji) is nice. Ninomiya house is well located, close to Tsukuba express station and to the Tsukuba center with shops and restaurants. The bicycle renting service is very useful.
The Japanese class was very nice and helps us to improve our Japanese.  The social events (bus tour in Ibaraki prefecture, calligraphy class, cooking class) are very friendly moments to meet people at the residence.
The WiFi service would be nice to have in the apartments. The bicycles could be more recent.
YES, it is very practical to rent a furnished apartment, which is not easy to find in Japan.
We have lived in Ninomiya House totally 2 years and 5 months up to now.
Firstly, my living room is very comfortable. It is warm in winter and not so hot in summer, and very quiet at night. I have very good sleep here. My wife and I enjoy the room so much and it is just like my home. Secondly, the Ninomiya House Office has organized a lot of events including language class, culture lecture, festival celebrations, traveling and so on. I like these events and enjoy the time to know new friends from different places and countries. Thirdly, there are a lot of public facilities in Ninomiya house, I like the ping-pong room, gym and kid's room. These give us unforgettable experience in the past time. 
The first and greatest benefit is the safety of Ninomiya House. There are frequently earth quake in this area. Living in Ninomiya House makes me feel reassuring. Moreover, as a foreigner who cannot speak Japanese, we highly benefited from the life assistance by the office staff.
I am very satisfied with the environment, service and public facilities like library, gym, kid's room and playing room. The only thing I would suggest is to provide a double-bed in some of the family rooms.
YES for sure. The facilities in Ninomiya House are very nice and the staff are very enthusiastic. Moreover, it is just like my home that I have a lot of good memories here, especially having had my first baby here.
Dr. Yongzhen Wu (from China, post-doctoral researcher at NIMS) and his family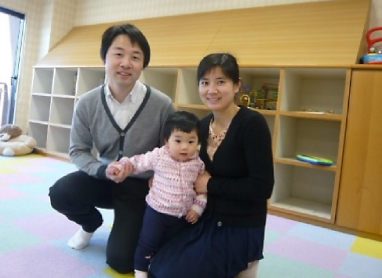 in Kid's Room at Ninomiya House in February 2016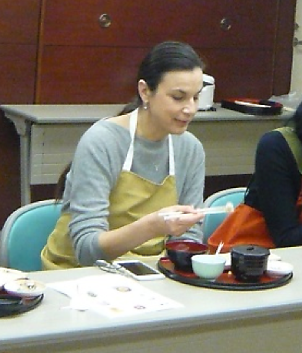 in Ninomiya House Japanese Home Cooking Class held in January 2016
Dr. Victoria Vesna (from USA, visiting professor at University of Tsukuba from UCLA)
2.5 months
I enjoy it very much. It is well organized, the staff is friendly and helpful and very quick, feels like home. It is good to be in a place that does not feel like a hotel.
Having the classes has been really beneficial not only to learn about Japanese culture but also to get to know some of the residents.
Specifically, I think it would be better to have the cooking class last longer and maybe over a few sessions. It was wonderful but felt a bit squeezed. It is also an opportunity for the residents to know each other better over a meal that was made together.
YES. It was a great place to stay while in Tsukuba!