ERATO Evolving Symbiosis Project International Seminar Series #05
Prof. Martin Kaltenpoth (Max Planck Institute for Chemical Ecology, Jena, Germany)
"Symbiotic microbes as driving forces of evolutionary innovation in beetles"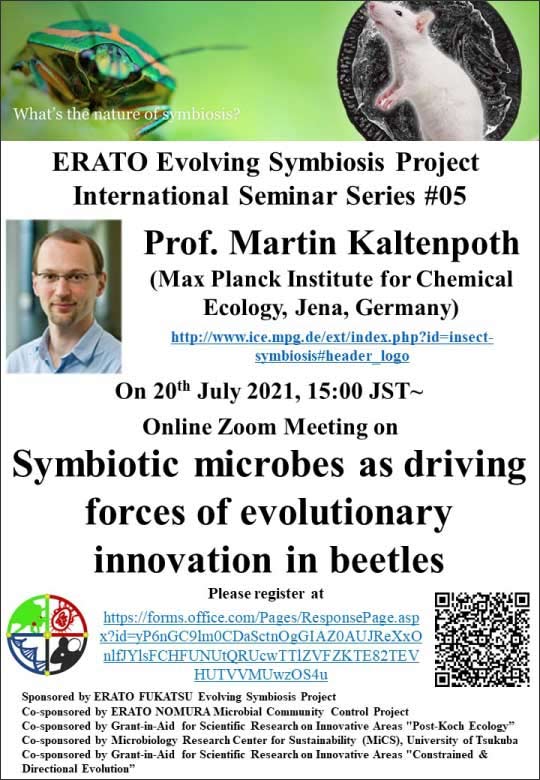 Abstract:Symbiotic associations with microbes are important driving forces of evolutionary innovation. The hyperdiverse insect order Coleoptera, the beetles, are associated with an astounding diversity of symbionts that provide a wide range of functional benefits to their hosts. Highlighting a few selected beetle-microbe associations, I will report on novel findings of symbiont-provided antibiotic defense, microbe-enabled digestion of plant material, and symbiont-mediated adaptation to the abiotic environment. These examples are intended to show the impact of symbionts on niche expansion and diversification in beetles, but also provide insights into life-style switches from parasitism to mutualism in bacteria as well as the process of extreme genome reduction beyond the well-known intracellular symbioses.
ERATO Evolving Symbiosis Project International Seminar Series #05
Sponsored by ERATO FUKATSU Evolving Symbiosis Project
https://www.jst.go.jp/erato/fukatsu/english/
Co-sponsored by ERATO NOMURA Microbial Community Control Project
https://www.jst.go.jp/erato/nomura/en/index.html
Co-sponsored by Grant-in-Aid for Scientific Research on Innovative Areas "Post-Koch Ecology"
https://postkoch.jp/about/
Co-sponsored by Microbiology Research Center for Sustainability (MiCS), University of Tsukuba
https://www.mics.tsukuba.ac.jp/en
Co-sponsored by Grant-in-Aid for Scientific Research on Innovative Areas "Constrained & Directional Evolution"
http://constrained-evo.org/english.html