About JST
Press Conference 2022 by the President
Session 3 - November 24, 2022 at Tokyo Headquarters
President Hashimoto talked about "The 1st Call for the Research Development Manager".
This is one of three initiatives announced when he assumed a position of President: reformation of funding programs, enhancement of our think-tank role for science and technology policy, and cultivation of human resources who can bridge governmental policies and research sites. A Research Development Manager is a highly specialized and producer-like person who connects "innovation policy" and "research sites," in science and technology. It is expected to be "connoisseur" of excellent research seeds and researchers and to work with researchers looking at the breakpoint to innovation from an early stage.
This is a new challenge for JST, which is responsible for creating innovation in Japan.
President Hashimoto
Session 2 - August 23, 2022 at Tokyo Headquarters
President Hashimoto talked about the knowledge circulation and international joint research in Japan and JST's response to this situation. Dr. Aida Takuzo, University Distinguished Professor, The University of Tokyo and Deputy Director, Center for Emergent Matter Science (CEMS), RIKEN, lectured on Current status and issues of Japan in the international scientific community. He has been a Research Leader of the Japan side at SICORP research area "Functional Porous Materials." Then, Dr. Kuroda Tadahiro, Professor, the director of d.lab and the chairperson of RaaS, The University of Tokyo, lectured on Global knowledge circulation---Butterfly effect in semiconductors.
He was also responsible for the JST Strategic Basic Research Programs ACCEL "Realization and development of innovative information processing system and application using near-field coupling integration technology" as a Research Director.
The presentation material is available for download from the link below: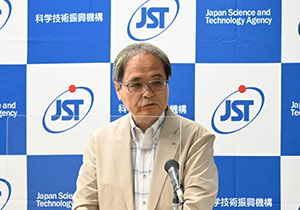 President Hashimoto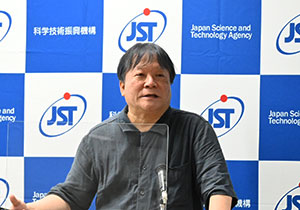 Dr. Aida
Dr. Kuroda
Session 1 - June 23, 2022 at Tokyo Headquarters
President Hashimoto talked about the current state of grant funding. Then, Dr. Mizushima Noboru, Professor, Graduate School and Faculty of Medicine, The University of Tokyo, lectured on Mechanisms and significance of intracellular degradation system: autophagy and other.
He has been and a Research Director of the JST Strategic Basic Research Programs ERATO "Mizushima Intracellular Degradation."
The presentation material is available for download from the link below: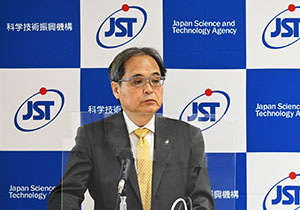 President Hashimoto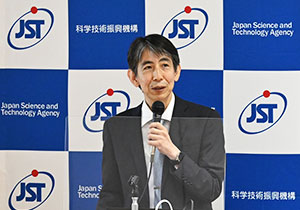 Dr. Mizushima