Research Projects Selected in FY2012
< Solution-Oriented Service Science Research, Type A >
IT-enabled Novel Societal Service Design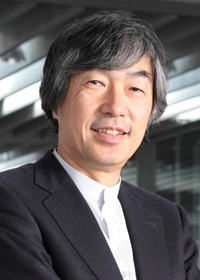 [] Project Leader
Hideyuki Nakashima
President,Future University Hakodate
[] Targets

Building a public transportation model suited to medium-sized cities and presenting methodology for integrating various services in a city
Putting into practice service while responding to changes in demand, in user involvement, and in the role of multi-agent simulation; creating a research and development loop for service improvement, and generalizing the loop
Given that in some cases where large-scale service systems are introduced, the efficiency of scale settles down and forms a U-shaped curve, establishing a methodology for gradual implementation so that when the R&D results are actually implemented in society, the dip in the U-curve of scale efficiency can be raised and a sustainable transportation society can be realized quickly and effectively
[] Approach

Investigation of the way citizens get around and small-scale trial operation: Iterate the cycle of investigation of how people get around→Simulation→Service creation→small-scale operation trials, and accumulate of detailed operational data
Building of a Smart Access Vehicle System (SAVS) simulation model: Provide a model that faithfully reproduces the accurate traffic needs and dynamics.
Simulation of people and goods flow: Obtain and analyze movement log data for people and goods.
Assessment of performance and features of a SAV allocation algorithm: Assess the algorithm under all possible conditions of the simulation model in terms of the real-world demands and situations.
Cities away from the major urban centers of Japan have seen their populations decline in recent years along with a rise in median age, causing the movement of people and goods to stagnate. Such stagnation is one factor behind the reduced economic and cultural vitality of regional cities.
This project will take up the theme of introduction of a revolutionary traffic system can smooth the flow of people and goods, revitalizing regional cities. The aim is to achieve a highly convenient vehicle allocation service by having all the buses and taxis in the city fully responsive.
Using simulations based on survey data of bus and taxi usage in the real-world as well as repeated field tests with actual vehicles, we will design a service for gradually revitalizing the flow of people and goods, and seek to verify its usefulness.
By analyzing the vehicle allocation strategy and the customer behavior that emerges as a result, and generalizing these, we will attempt to give a research foundation to service science.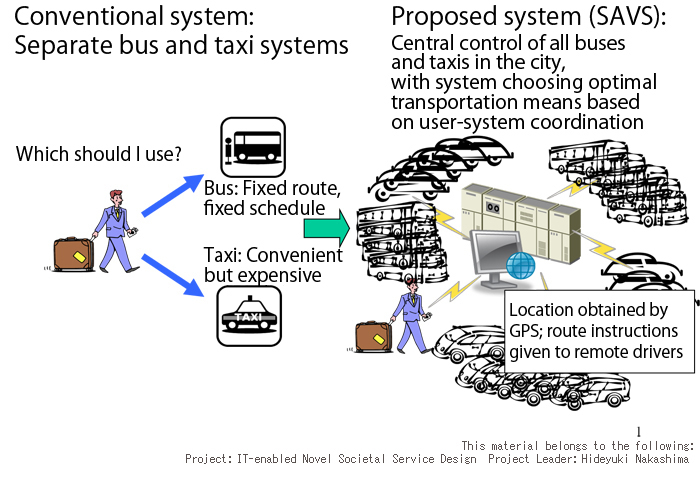 page top