Research Projects Selected in FY2011
< Foundation-Oriented Service Science Research, Type B >
A co-creation measurement for financial services: scale development and validation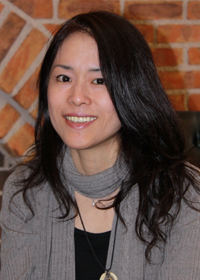 [] Project Leader
Keiko TOYA
associate professor, Doshisha Business School
[] Targets

Defining types of co-created value (customer lifetime value, monetary value, intellectual value, emotional value, etc.) and clarifying who are the co-creators of that value (customer and employees, employees and company, customers and company, customers and other customers, etc.)
Developing a method for measuring the value to the co-creators, and establishing a measurement scale derived therefrom
Quantifying the network effects deriving from each of the co-created values and clarifying the structure between each of the co-created values
Encouraging customer participation in the process of providing financial services, thereby raising profitability, and improving the long-term relationship of the financial services industry with customers and the local community
[] Approach

Estimation of customer lifetime value: Conducting interviews and site observations, extract and organize measurement data.
Analysis of customer and employee value: Derive a hypothesis from qualitative analysis (semi-structured interviews, workshops) and decide a measurement scale to be used in quantitative investigations.
Analysis of value network effects: Construct a network indicating inter-customer relationships and use this to analyze intellectual value and emotional value.
Even though co-creation is one of the most important concepts in service science, specific indicators for assessing the extent of co-created value creation have not yet been established in a scientific way.
This project therefore aims to clarify the definition of co-created value and develop a scale for measuring it.
Looking at financial services as the target field, we intend to classify co-created value for each of the stakeholders, namely customers, company, employees, and society, as monetary value, intellectual value, or emotional value. We will then clarify the structures involved including the network effect coming from the relationships among values and among stakeholders.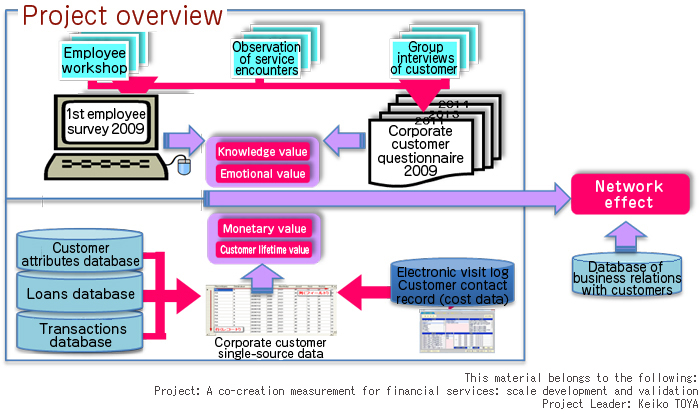 page top