Japan Science and Technology Agency (JST) has announced its selection of proposals for young research team feasibility studies under the Fiscal Year 2011 Special Project Formation Investigation for Science and Technology Research Partnership for Sustainable Development (SATREPS)*.
The proposals selected for Special Project Formation Investigation (Young Research Team Feasibility Studies) are each based on studying the feasibility of a potential SATREPS project with a new focus. They also meet the objective of enhancing the ability of young researchers to operate in a global context. The proposals for feasibility studies were solicited by targeting research topics addressed by young researchers through the Friends of SATREPS online community. It is hoped that these feasibility studies will lead to SATREPS project applications next year or in subsequent years.
A total of 26 proposals were received. After the application period closed, a committee of external experts reviewed the proposal documentation and selected a total of 10 research projects (See Attachment for details). Funding for the feasibility studies for these projects will commence as soon as contracts are in place and other preparations are complete.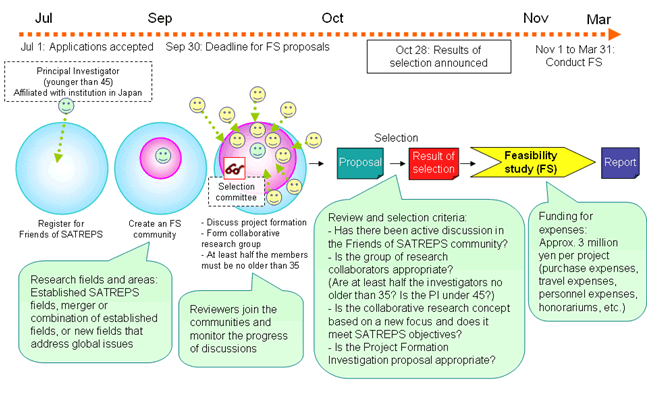 *

Science and Technology Research Partnership for Sustainable Development (SATREPS)

SATREPS is a Japanese government program that contributes to science and technology diplomacy by using Official Development Assistance (ODA) and advanced science and technology from Japan. The program is conducted through collaboration between JST, supported by the Ministry of Education, Culture, Sports, Science and Technology (MEXT), and the Japan International Cooperation Agency (JICA), supported by the Ministry of Foreign Affairs (MOFA). Based on the needs of developing countries, the program entails promotion of international joint research targeting global issues and envisages practical adoption of research outcomes. In addition to producing new scientific knowledge that can lead to the resolution of global issues, the international joint research addresses the development of R&D capacity in developing countries, enhancing each country's ability to sustain research.
Friends of SATREPS URL: https://fos.jst.go.jp/
<Attachment>
Attachment :FY2011 SATREPS Special Project Formation Investigation: Young Research Team Feasibility Studies: Proposals Selected
<Contact>
Japan Science and Technology Agency (JST)
Research Partnership for Sustainable Development Division
5-3, Yonbancho, Chiyoda-ku, Tokyo 102-8666
Tel:+81-3-5214-8085 Fax:+81-3-5214-7379
E-mail: