The carbon footprint of humans will be reduced by four awards for plant and microbial research issued under a new joint U.S./Japanese funding program.
Four joint U.S. and Japanese research teams have been awarded funding totaling about $12 million (about Yen 960 million) to develop new environmentally-friendly techniques to increase the production of renewable biofuel and reduce pesticide use. These environmentally-friendly techniques will be based on studies of metabolites: metabolites are chemical compounds that are produced in all living cells and are integral to a wide range of important and life-sustaining biological processes, including the ability of plants to fight disease-causing pests and the ability of photosynthetic algae to produce biofuel.
Currently, scientists can identify and characterize the properties of only a small fraction of the 10,000 to 15,000 metabolites that exist in any given plant. Nevertheless, an improved ability to identify and characterize these pivotal compounds could lead to the development of entirely new/breakthrough approaches for increasing biofuel production and reducing pesticide use.
The four research projects announced today are not only important for their potential to help increase biofuel production and reduce pesticide use but also for their potential to produce much needed advances in the overall field of metabolomics--the study of all of an organism's metabolites. Metabolomics has exciting applications in varied fields, including environmental science, synthetic biology, medicine, and predictive modeling of plant, algal and microbial systems.
These four new awards were issued under a new program called "Metabolomics for a Low Carbon Society"--the first program that has ever been fully jointly coordinated by the National Science Foundation (NSF) and Japan Science and Technology Agency (JST)* Each project will last three years, but could be extended for another two years based on the results of an evaluation that will be conducted during the third year.
The four new Metabolomics for a Low Carbon Society projects are designed to capitalize on the technical expertise and research infrastructures of both the U.S. and Japan, and to promote collaborative research between U.S. and Japanese scientists. To this end, NSF and JST required all proposals for funding to include at least one U.S. researcher and one Japanese researcher, and NSF and JST jointly reviewed all submitted proposals.
"Projects from this program will benefit from complementary expertise, innovative approaches and cooperation--the kinds of advantages provided by international collaborations," said Subra Suresh, the director of NSF. These projects offer particular promise for producing cutting-edge results that will take the field of metabolomics to new levels and yield important environmental benefits."
"The goal of this joint NSF-JST program is to advance novel biological knowledge in metabolomics in the areas of energy and the environment," said Michiharu Nakamura, President of JST. "It is expected that the collaborative research among U.S. and Japanese scientists focused on fundamental research will strengthen a broader understanding of metabolomics, which is one of the most advanced areas of life science. It is also expected that the outcome of the joint research will significantly contribute to the development of a low carbon society."
Although each of the four funded trans-pacific research projects addresses a unique research problem, these projects collectively address widespread challenges underlying metabolomics in all of its applications. These challenges include the pressing need to identify more metabolites and to develop more flexible and sophisticated metabolomics infrastructures, including comprehensive databases of species-dependent metabolites. By addressing these widespread problems, results of the four funded projects are expected to broadly advance the entire field.
These four new research projects are as follows: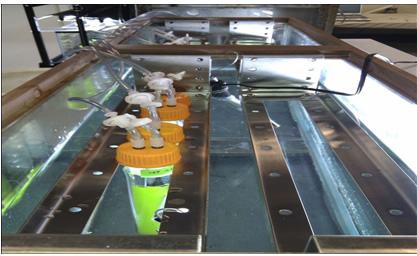 Figure 1.
Cultures of algae are grown in reactors in the VanderGheynst Laboratory at the University of California at Davis. Variations in the amount of carbon dioxide consumed by growing algae under different environmental conditions are measured. Such research will contribute to the Fiehn/Arita research group's efforts to improve the ability of photosynthetic algae to produce biofuel.
Credit: Professor Fiehn, UC Davis, Gert Wohlgemuth, UC Davis, Kirsten Skogerhson, Monsanto
Figure 2.
A type of photosynthetic bacteria that will be studied as part of the Liao/Fukusaki project, which will be devoted to increasing butanol production.
Credit: Hidevaldo Machado, University of California, Los Angeles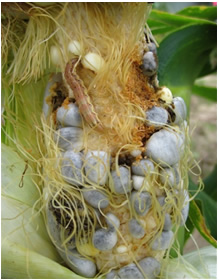 Figure 3.
The damage done to an ear of corn infected by a fungus and corn earworm larvae. Notice how the combine pressure of pests and disease-causing microbial organisms can significantly reduce crop yield. The Jander/Okumoto team will use metabolomics techniques to identify natural chemicals used by plants to fight diseases.
Credit: Eric Schmeiz, USDA-ARS, CMAVE Chemistry Research Unit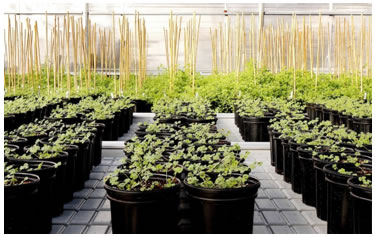 Figure 4.
A plant called Medicago truncatula grows in the Samuel Roberts Noble Foundation greenhouse in Ardmore, Oklahoma. The Sumber/Saito team will identify and characterize important metabolites related to biomass and oil production in plants.
Credit: Broderick Stearns, Noble Foundation
*Joint funding for Metabolomics for a Low Carbon Society is operated by NSF under the Divisions of Integrative Organismal Systems, Molecular and Cellular Biosciences and Biological Infrastructure and by JST under the Strategic International Collaborative Research Program (SICORP).
JST is Japan's core organization for implementing science and technology policy in line with the objectives of Japan's Science and Technology Basic Plan. The organization is dedicated to establishing Japan as a nation built on the creativity of science, technology and innovation. SICORP supports international exchange/joint research projects in various fields with counterpart agencies of other countries via international agreements. (See links to the websites of JST and SICORP below.)
<Contact>
<Media Contacts>
Ms. Lily Whiteman,
National Science Foundation (703) 292-8310
E-mail:
<Program Contacts>
Mr. Gregory Warr
National Science Foundation (703) 292-8440
E-mail:

Mr. Bruce McClure
National Science Foundation (703) 292-7265
E-mail:

Mr. Hideo Nakajima
Japan Science and Technology Agency +81(0)3-5214-7375
E-mail:

Mr. Mitsuhiko Oi
Japan Science and Technology Agency+81(0) 3-5214-7375
E-mail:

Related Websites
JST Home Page http://www.jst.go.jp/EN/index.html
SICORP http://www.jst.go.jp/inter/english/index.html