Center for Science Communication
http://www.jst.go.jp/csc/
The biggest general science conference in the United States, "the American Association for the Advancement of Science (AAAs) Annual Meeting" was held in Boston for five days from February 16, 2017. The meeting consisted of two parts: displays and conference. JST exhibited a booth and hosted a symposium with the South Africa Department of Science and Technology (DST). The session was conducted by JST's SDGs team members and titled "Global Conference Start-Ups: Inclusive Science and Society Engagement ". (See also JST Topics Page)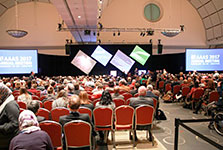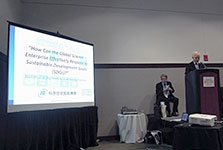 In the session, the future of the scientific open forum was vigorously discussed by world's major forum hosts, such as Euro Science Open Forum (ESOF), Science Forum South Africa (SFSA), Open Science Forum for Latin America and the Caribbean(CILAC), the World Science Forum (WSF), AAAs, and Science Agora in Japan. Every host has been striving to have opportunities thinking together about the science and technology with diverse stakeholders.
Ms. Naledi Pandor, the South African Minister of Science and Technology, has emphasized that the science and technology will overcome nation's top priority issues of poor and inequality. Although she expressed her understanding of President Trump 's "America First Policy" from the aspect of national imminent issue, she said, "Every nation has problems, such as a gap between the rich and the poor, and international cooperation is indispensable to solve such problems."
In the exhibition area, exhibitors' booths and posters were lined up. There were also posters from high schools which attended in the Poster Sessions. Because JST's booth was located on a corner, it was an eye-catching spot. More than 700 people visited our booth, which exceeded the last year. Many people stopped in front of the high-definition reproduction of the ukiyo-e of Sharaku and Van Gogh's oil painting. They were also shared by Twitter of the Boston Globe, the daily newspaper in Boston. Some visitors watched "The Man from the 9 Dimensions", a 3D dome movie on the "Theory of Everything, the ultimate goal of physics". (planning and production by Miraikan) JST booth successfully introduced our activities and operations by exhibiting "touch and see "research outcomes because tangible exhibits made communication easier. Through this experience, JST needs to consider what we appeal for the world and how we support S&T research with international collaboration.
During the meeting, we often heard the idea of "Story Telling". Due to disseminate the importance and excitement of science and technology among people who are not familiar with science, we need to talk to them like telling a story. Although the idea has been discussed in the field of science communication on some occasions, it has been growing awareness as the communication tool to disseminate policies. Symposia of AAAs Annual Meeting had to meet rigid requirements. In the international stages, how well we demonstrate our presentation and give visitors satisfaction in the international stage are important challenges for JST's future global activities.