Eleven Asian high school students along with four supervisors made a courtesy call on Mr. Hiroshi HASE, Minister of Education, Culture, Sports, Science and Technology (MEXT) on Friday, April 15, 2016.
The students represented a group of 125 invitees from four Asian countries (the Kingdom of Cambodia, the Republic of India, Lao People's Democratic Republic and Socialist Republic of Vietnam), who currently visited Japan under the Japan-Asia Youth Exchange Program in Science (the SAKURA Exchange Program in Science/SAKURA Science Plan) *1administered by Japan Science and Technology Agency ("JST", President: Dr. Michiharu Hamaguchi).
The SAKURA Exchange Program in Science is designed to facilitate scientific exchanges between Japanese and Asian youth by offering a short-term invitation to outstanding Asian youth of 35 countries and regions*2 with much emphasis on the field of science and technology (S&T). The program aims to raise the interest of Asian youth in S&T, thus contributing to the advancement of S&T in Asia.
JST invites about 900 excellent Asian high school students in JFY2016 on eight separate occasions. The first group of 125 high school students and 25 supervisors, on their first tour to Japan from April 10 to 16, visited top Japanese universities and research institutes, and participated in a hands-on chemistry class supervised by Prof. Hideki Shirakawa, Nobel Laureate in Chemistry 2000, in addition to having exchanges with students from Japanese Super Science High Schools (SSHs) and Super Global High School (SGHs) among other activities.
During the courtesy visit, Mr. Sok Vireak of Cambodia, Ms. Dutta Shubhangi of India, Mr. King Leuangvyhane of Laos and Mr. Tran Thanh Thung of Vietnam presented their impressions of the exchange program, followed by the remaining invitees expressing their gratitude for the opportunity to visit Japan. Ms. Aloor Jasmine Jerry of India offered a bouquet of flowers to the Minister with words of sincere appreciation. The meeting ended amicably with a group photo session.
Outline of SAKURA Science Program in Science
SAKURA Exchange Program in Science has two sub-programs, one, Calls for proposal and the other, SAKURA Science High School Program.
1) Calls for Proposal
Japanese host organizations including universities, research institutes, private companies, high schools, and local governments as the host organization, work out an exchange plan in close cooperation with Asian sending organizations and submit applications for final selection by JST.
2) SAKURA Science High School Program
JST, as a host, invites outstanding Asian high school students under the SAKURA Science High School Program in close cooperation with the relevant Asian government agencies. Invited students are exposed to Japan's advanced science and technology, as well as exchanges with Japanese high school counterparts and researchers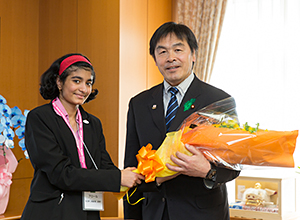 Photo1:
Mr. Hiroshi Hase receiving the bouquet of flowers from one of the attending high school students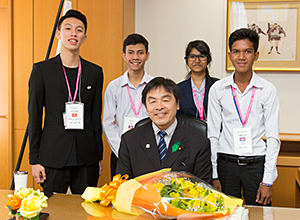 Photo2:
Mr. Hiroshi Hase with
Asian high school students #1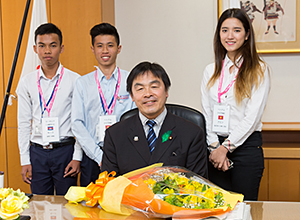 Photo3:
Mr. Hiroshi Hase with
Asian high school students #2

Photo4:
Mr. Hiroshi Hase with
Asian high school students #3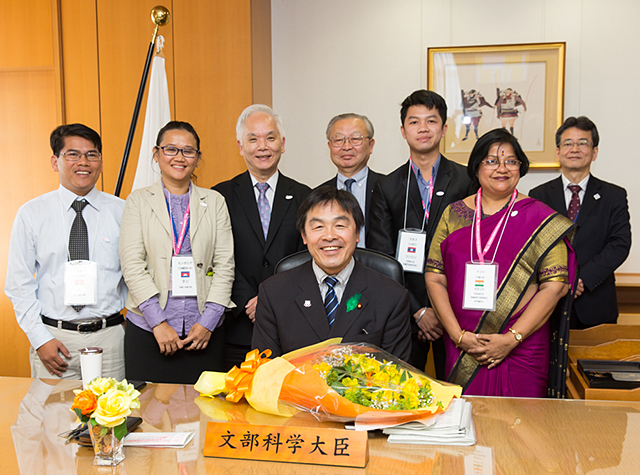 Photo5:
Mr. Hiroshi Hase with the supervisors and Dr. Hamaguchi (President, JST; Third from the left back), Mr. Okimura (Counselor to the President, JST; Center back), Mr. Ito (Director-General, Policy Div., Science and Technology Bureau, MEXT, Right back)
1

Website for SAKURA Exchange Program in Science: http://ssp.jst.go.jp/EN/index.html

2

Eligible Countries and Regions under SAKURA Exchange Program in Science:

[East Asia] China, Republic of Korea, Mongolia, Taiwan
[Southeast Asia] Brunei Darussalam, Cambodia, Indonesia, Lao, Malaysia, Myanmar, Philippines, Singapore, Thailand, Timor-Leste, Viet Nam
[Southwest Asia]Bangladesh, Bhutan, India, Maldives, Nepal, Pakistan, Sri Lanka
[Central Asia] Kazakhstan, Kyrgyz, Tajikistan, Turkmenistan, Uzbekistan
[Oceania]Fiji, Marshall Islands, Micronesia, Palau, Papua New Guinea, Samoa, Solomon Islands, Tonga
(Alphabetical order in each area)