Construction of motile cilia/flagella requires cytoplasmic preassembly of axonemal dyneins before transport into cilia. Axonemal dyneins have various subtypes, but the roles of each dynein subtype and their assembly processes remain elusive in vertebrates. The PIH protein family, consisting of four members, has been implicated in the assembly of different dynein subtypes, although evidence for this idea is sparse. Here, we established zebrafish mutants of all four PIH-protein genes: pih1d1, pih1d2, ktu, and twister, and analyzed the structures of axonemal dyneins in mutant spermatozoa by cryo-electron tomography. Mutations caused the loss of specific dynein subtypes, which was correlated with abnormal sperm motility. We also found organ-specific compositions of dynein subtypes, which could explain the severe motility defects of mutant Kupffer's vesicle cilia. Our data demonstrate that all vertebrate PIH proteins are differently required for cilia/flagella motions and the assembly of axonemal dyneins, assigning specific dynein subtypes to each PIH protein.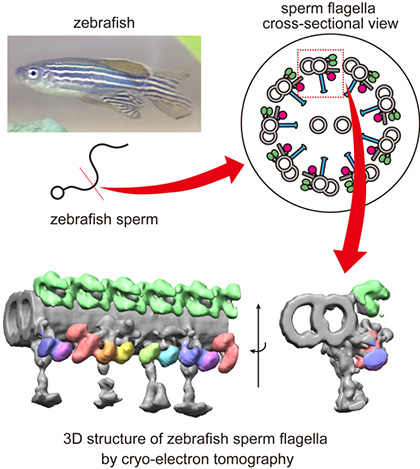 Figure 1: Sperm structure
Upper: Diagrams of the zebrafish sperm and the cross-sectional view of sperm flagella.
Lower: Detailed structure of zebrafish sperm flagella was revealed by cryo-electron tomography. Axonemal dyneins, which generate bending of flagella, are colored to show distinct dynein subtypes.
[©Kikkawa lab, The University of Tokyo]
Figure 2: Mutant spermatozoa
Detailed structures of mutant sperm flagella are revealed by cryo-electron tomography. Mutations of PIH genes caused the loss of axonemal dynein subtypes (red circles).
[©Kikkawa lab, The University of Tokyo]
*The images are only used with "Provided by Kikkawa lab, The University of Tokyo."
Program Information
JST CREST
Research Area "Structural Life Science and Advanced Core Technologies for Innovative Life Science Research"
Research Theme "Cellular structural biology of cilia/flagella"
Journal Information
Hiroshi Yamaguchi, Toshiyuki Oda, Masahide Kikkawa and Hiroyuki Takeda. "Systematic studies of all PIH proteins in zebrafish reveal their distinct roles in axonemal dynein assembly" , eLife, published online May 9, 2018. DOI: 110.7554/eLife.36979.001.
Contact
[About Research]
Masahide Kikkawa, M.D. , Ph.D.
Professor, Department of Cell Biology and Anatomy, Graduate School of Medicine, The University of Tokyo
E-mail:

[About Program]
Tetsu Kawaguchi
Life Innovation Group, Department of Innovation Research, JST
E-mail: