The pollen tube (PT) containing male gametes elongates and penetrates into the pistils for successful fertilization. However, the molecular mechanisms of plant fertilization remain largely unknown. We report a transient inhibition of gene function using phosphorothioate antisense oligodeoxynucleotides (AS-ODNs) without lipofection reagent, which is a simple way to study gene function in Arabidopsis thaliana PTs. The PTs treated with AS-ODNs against genes responsible for PT growth cause various defects in vitro/semi-in vitro. This method will enable the identification of reproductively important genes in Arabidopsis PTs. The current findings can apply for plant breeding program.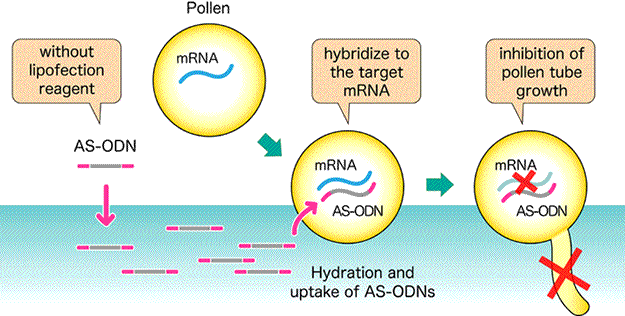 Figure 1 Schematic representation of AS-ODN-mediated antisense inhibition in Arabidopsis pollen tube.
Figure 2 Inhibition of PT growth by AS-ODNs. AS-ODNs against genes responsible for PT growth (
ANX, CalS5

and

ROP1

) cause various defects. Scale bars are 0.1 mm.
Researcher Information
JST ERATO (Exploratory Research for Advanced Technology)
Higashiyama Live-Holonics Project
Journal Information
Mizuta Y. and Higashiyama T. "Antisense gene inhibition by phosphorothioate antisense oligonucleotide in Arabidopsis pollen tubes", The Plant Journal, 2014
doi: 10.1111/tpj.12461
Contact
[About Research]
Yoko Mizuta Ph.D.
Researcher
ERATO Higashiyama Live-Holonics Project
E-mail:


HP: http://www.liveholonics.com/en/
[About Program]
Yoshizumi Sakamoto
Department of Research Project
Japan Science and Technology Agency (JST)
E-mail:


HP: http://www.jst.go.jp/erato/en/index.html