Intensive nursing-care is a common and serious social problem in advanced countries with high longevity. In this program, an innovative cybernic system that fuses and combines the brain-nerve-muscular system, robots and other devices, improves/extends/amplifies/assists the residual functions of human beings. PM's challenges are to promote the creation of new industries using the innovative human support technologies, to realize a "ZERO Intensive Nursing-care Society," to realize a paradigm shift from the conventional consumption economy to the social problem-solving economy, and to realize industrial and social innovations, by implementing the proposed technology in society as a life-support infrastructure.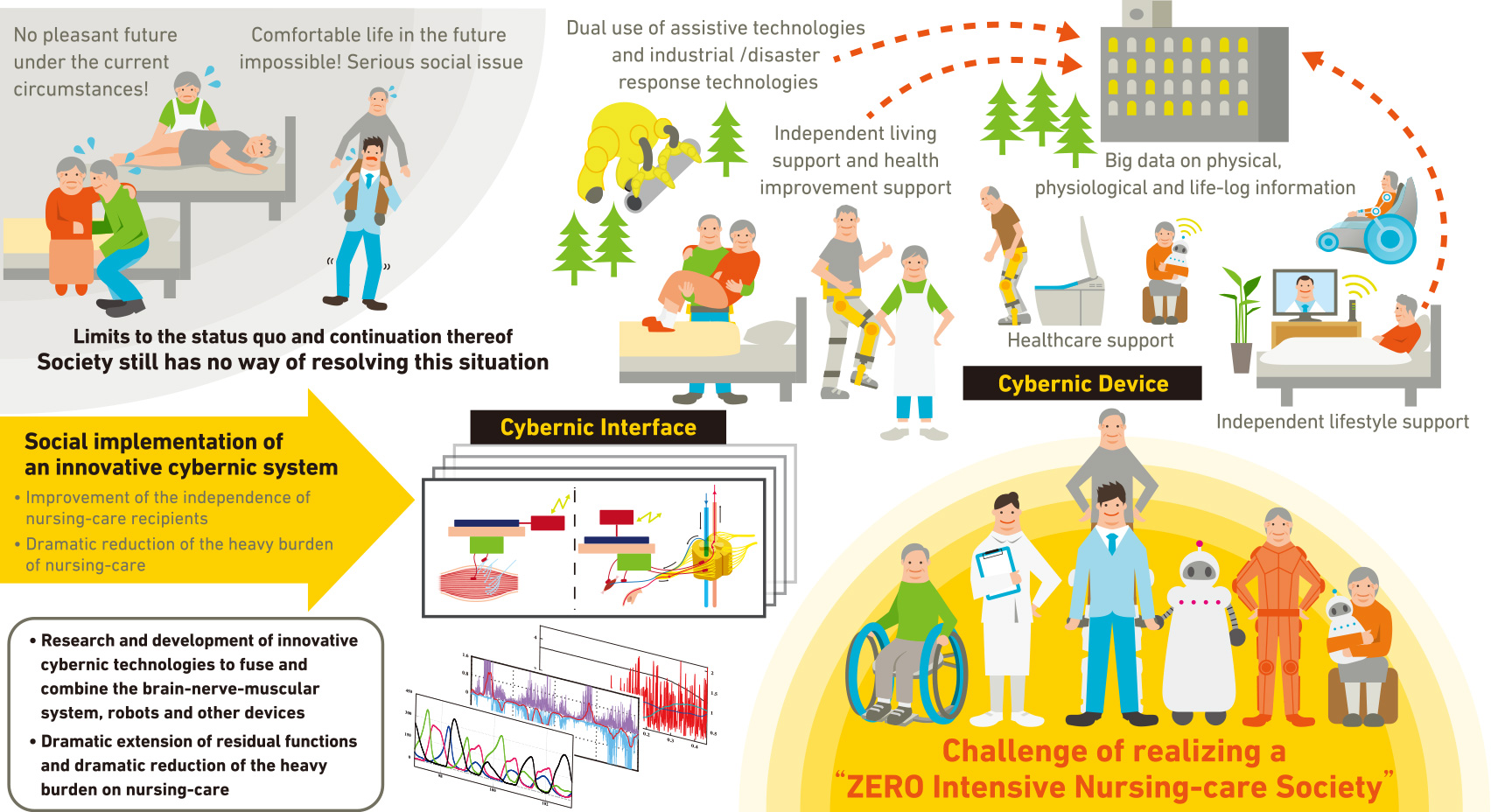 Keys of the implementation structure
The ImPACT research and development core conducts competitions on a daily, on demand basis concerning the elements of individual issues or each issue, managing research and development contractors and providing appropriate feedback. In certain cases, have organizations that are expected to achieve the goal simultaneously and concurrently participate as needed, and while hedging risk and ensuring effectiveness, manage the whole program based on speed of implementation.
Approach to selection of institutions
The Univ. of Tsukuba Center for Cybernics Research is the global leader in the field of human support technologies. It is an innovative center closely integrating humans, technology and society that makes its research findings available for commercialization and social applications through personnel development and collaboration between industry, government, and academia. In addition, it is a leading center in the cybernics field.
The Assisted Living Robot Safety Test Center is an organization for testing safety, the only organization in the world with a safety standard compatibility evaluation method in this field. The National Institute of Advanced Industrial Science and Technology (AIST) is its parent organization.
Cyberdyne Inc is world-class organization with the experience of achieving the social implementation of devices and systems that meet the international standards (ISO) required by this program, right from basic research and development (including obtaining CE mark certification as a medical device, stock listing, and international business development).
Organization
The Cabinet Office
ImPACT: Impulsing Paradigm Change through Disruptive Technologies Program
ImPACT Program Manager
Yoshiyuki Sankai
Associate Program Manager
Tomio Shindo