Polymers are so convenient that they are sometimes said to be the most versatile material ever developed by human beings. But the thinner they are, the more easily they tend to break, while if they are too hard, they become brittle. The goal of this program is to develop tough, flexible polymers that achieve both thinness and toughness exceeding conventional limits. Polymers that combine toughness, flexibility and self-restoring capability (the material recovers the damage in response to heat or light) will produce dramatic breakthroughs in automobile components and transport equipment. They will also have a widespread ripple effect throughout all industries that use polymeric materials, and in the future will meet society's needs for safety, security and low environmental impact.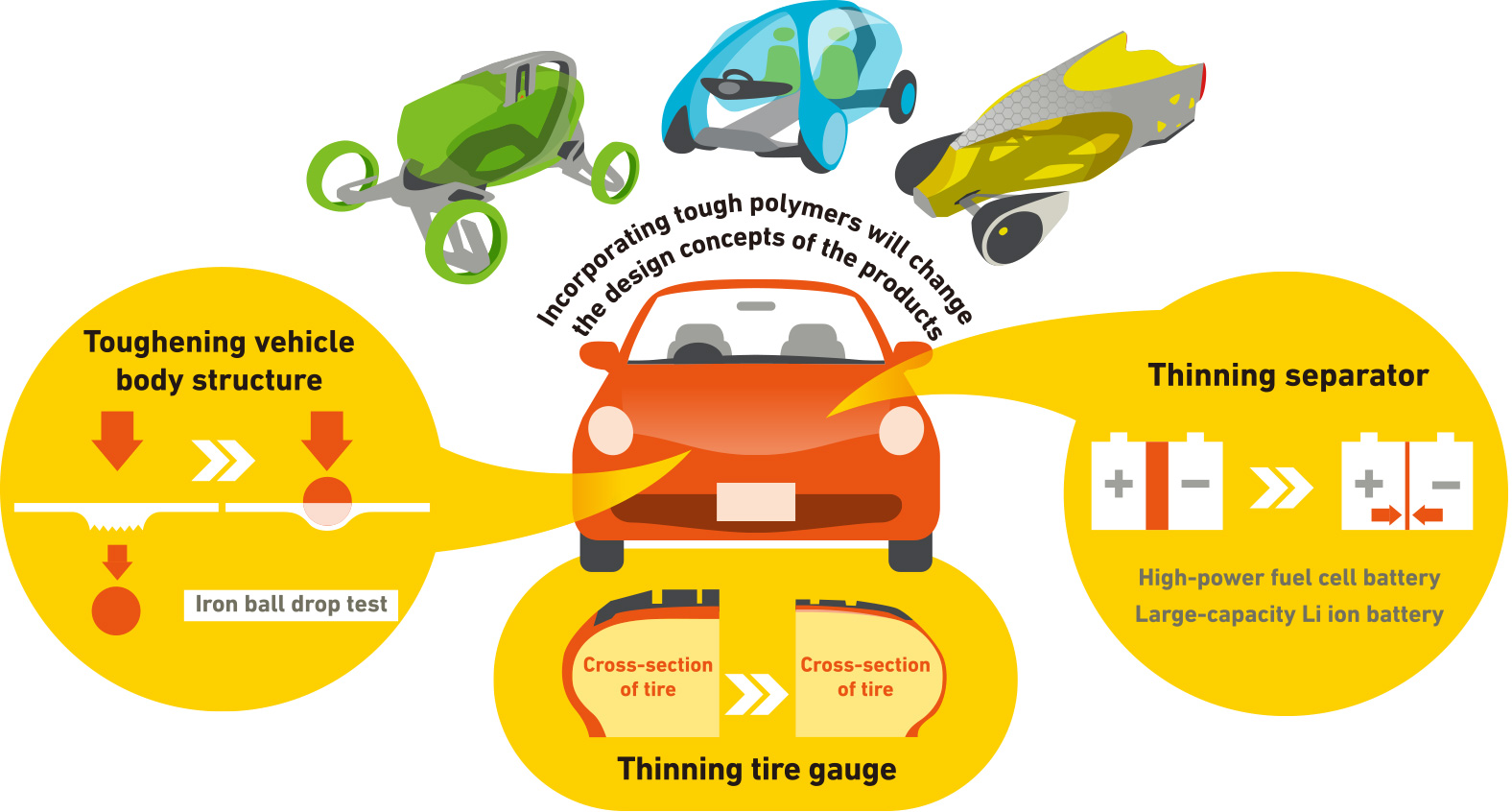 Industrial companies will lead the project from A to F, where the project leader (PL) will select the needed research institutions from among academia in G project. The G project covers common and cross-sectional challenges. This will create a strong industry-government-academia team that is optimized for resolving the challenges for each project.
We selected industrial companies that own proprietary technology superior to competitors in areas outside of toughness and that are capable of influencing industry and society by achieving thin and tough polymers.
We chose research institutes that have a track record and superior technology in experimental or theoretical research for tough polymers, and that have been selected by multiple PLs. Other institutions are added through calls for participants to complement the group and to implement competition and cooperation.
The PM himself is affiliated with the Univ. of Tokyo. Since the PM invented the slide-ring polymer (one type of tough polymer) and the technology for its synthesis and property control is one of the common and key technologies for this program, participation of the Univ. of Tokyo is essential in achieving the target with adequate conflict-of-interest management.
Organization
The Cabinet Office
ImPACT: Impulsing Paradigm Change through Disruptive Technologies Program
ImPACT Program Manager
Kohzo Ito
Associate Program Manager
Naoki Kato
Associate Program Manager
Tadashi Ishihara