Kineta: Kinetic Art Design System Comprising Rigid Body Simulation
Yohsuke FURUTA, Jun MITANI, Takeo IGARASHI and Yukio FUKUI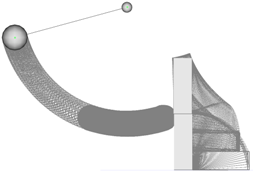 Abstract
Kinetic art, such as mobile sculptures and balance toys, is art that involves movement. The design of original kinetic art is difficult because one must consider physics in order to predict the result. Current computer aided design (CAD) and computer aided engineering (CAE) tools are of limited use when designing such dynamic objects because typically these systems are entirely separated. In this project, we propose a new system for designing original kinetic art objects in which a three-dimensional (3D) geometrical modeling interface and a rigid body simulation are combined. In this study, we introduce an imprementation technique to achieve real-time responses and present a prototype system. To demonstrate the technique's effectiveness, we report the results of user studies and show several objects designed of the system.
Publication
Yohsuke FURUTA, Jun MITANI, Takeo IGARASHI and Yukio FUKUI,
"Kinetic Art Design System Comprising Rigid Body Simulation",
Computer-Aided Design and Applications (Special Issue on CAD in the Arts) Volume 7 Number 4 Pages 533-546,
DOI: 10.3722/cadaps.2009.533-546, 2010.

Video